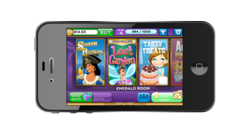 SlotSpot delivers high-end graphics, action-packed gameplay and several unique social elements to put a whole new spin on the slots genre.
Vancouver, Canada (PRWEB) July 31, 2012
Blitzoo Games, Inc. (http://www.blitzoo.com), the leading independent developer of social slots and casino-style games, today announced it is bringing its distinctive style of games to mobile with the launch of SlotSpot on iOS. Among the highest-rated and largest independent slots apps on Facebook, SlotSpot now allows players to carry the thrill and adventure of the company's interactive slot games with them wherever they go.
Featuring one of the industry's most engaging assortments of slots, SlotSpot delivers high-end graphics, action-packed gameplay and several unique social elements to put a whole new spin on the slots genre. With names like Swashbuckler, Reel Romance, Showgirls Classic, and Ragin Cajun, each slot machine offers its own characters and distinctive storylines to keep players engaged.
"SlotSpot became a huge success on Facebook from the moment we launched it more than a year ago, and today you would need a casino four times the size of the MGM Grand to house all of the people playing our slots at any given moment," said Dave Bezahler, CEO of Blitzoo Games, Inc. "We put tremendous effort into nurturing the community around our game (1.5M Facebook fans), and they've been asking us to launch a mobile version of the app, so we are proud to be able to give them a game that we believe will exceed their expectations. This is not simply a re-skinned game, but a brand new experience built specifically for the iPhone."
SlotSpot is launching on iOS with 12 one-of-a-kind slot games, each providing an immersive gaming experience with rich graphics, animated characters and fun sounds. Step into the world of Swashbuckler, for instance, set on an old-time pirate ship where one-eyed pirates will try to steal your treasure. Or enter the Lost Garden, a magical place inhabited by pixies, dragons, fairies and other mythical characters. From the dessert-themed Tasty Treats and romance novel-themed Reel Romance, to the southern hospitality of Ragin Cajun and the wooded forests of Took's Timber, SlotSpot has a slot experience available for anyone and everyone.
SlotSpot for iOS also features:

40+ Levels: As your winnings pile up, you'll access new levels and unlock premium rewards such as new slot games, unique bonus games, additional paylines and other added benefits. The more you play, the more you unlock. Use the Super Bet button to triple your bet for the chance to level-up even faster.
"SlotSpot Adventures": Woven throughout the gameplay are numerous unique adventures comprised of specific quests that help drive the storyline forward while introducing players to new characters and plot twists. Receive bonus coins for each "SlotSpot Adventure" completed.
Social Sharing & Competitions: Playing slots is simply more fun with other people. Send coins to your friends to get them started, or choose to compete against them. You can easily invite friends to play by tapping into the contacts in your phone or through Facebook Connect.
Bonus Games: Take a break from the slots for a quick moment to play bonus games like SlotSpot's Match Game, Pyramid Challenge and Beat the Dealer, offering yet another layer of risk and reward.
Other Features Coming Soon: As on Facebook, Blitzoo will be releasing continual enhancements to its iOS game for intense multi-player action, as well as special SlotSpot VIP packages, additional slots, innovative betting schemes and other benefits.
SlotSpot is now available in iTunes at http://itunes.apple.com/ca/app/slotspot/id515110684?mt=8. Get updates about the game by following @SlotSpot on Twitter at http://www.twitter.com/SlotSpot or Liking it on Facebook at http://www.facebook.com/SlotSpotGame.
About Blitzoo Games, Inc.
Blitzoo is the leading independent developer of online slots and casino-style games on social and mobile platforms. The company's flagship product, SlotSpot, offers gamers the fun, simplicity and addictiveness of traditional slots games with top-tier graphics, real-time Slots Tournaments, multi-hand Blackjack, Video Poker, and other interactive features to create a best-in-class gaming experience. The company was founded in 2010 by seasoned gaming executives and is committed to providing the best online casino-style games in the world. Blitzoo is headquartered in Vancouver, BC, Canada. For more information, visit http://www.blitzoo.com.
# # #
Media Contact
Matt McAllister
Fluid PR, Inc
(510) 229-9707
matt (at) fluidspeak (dot) com
Company Contact
Steve Mitobe
Blitzoo Games, Inc
smitobe (at) blitzoo (dot) com
(604) 614-7953