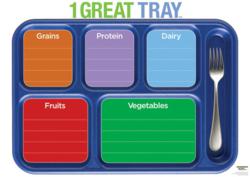 Owatonna, MN (PRWEB) July 31, 2012
Learning ZoneXpress recently launched the 1 Great Tray Dry Erase Menu Board and the MyPlate Dry Erase Menu Board to promote good nutrition and healthy eating habits. Both products have been flying off the shelves in their warehouse. Customers are sending a very clear message: they care about healthy eating and they want a constant reminder at every meal.
The #1 best selling nutrition education product by Learning ZoneXpress, the 1 Great Tray Dry Erase Menu Board, is designed loosely with MyPlate, the USDA update on the Food Pyramid icon to promote nutrition education for kids. The Dry Erase Menu Board makes it easy for schools to display their breakfast or lunch menu items and categorize them by each major food group on a colorful school lunch tray. The value of this product is that it serves as a helpful reminder for students to incorporate each of the five major food groups into their school breakfast or lunch and aim for the correct portion sizes. Students will be well aware that if they pass on the serving of fruits in the lunch line, their meal will be missing a key component. Kick off the new school year with 1 Great Tray.
The other new product, the MyPlate Dry Erase Menu Board, also positions menu items as they relate to each of the five major food groups and corresponding portion sizes but its familiar plate shape makes it more versatile. This convenient new product can be used in a variety of spaces—cafeterias, hospitals, restaurants, homes, etc.—to encourage healthy eating. Hang the MyPlate Dry Erase Menu Board at home to remind picky eaters that vegetables should be an essential component to their diet.
Learning ZoneXpress offers each menu board in two sizes, 18" x 24" and 32" x 45", so that they are functional in any space.
About Learning ZoneXpress
Learning ZoneXpress, based in Owatonna, Minn., is a leading source of "edu-taining" and award-winning teaching tools. Its mission is to help improve the health and vitality of children by providing relevant, creative and affordable learning tools about life skills, healthy behaviors and nutrition. Learning ZoneXpress offers a wide variety of learning aids, nutrition education resources, and affordable education products such as DVDs, posters, games, lesson plans, and PowerPoint presentations.
For more information about Learning ZoneXpress products, visit http://www.learningzonexpress.com or call Toni Gnasdoskey at 888-455-7003.