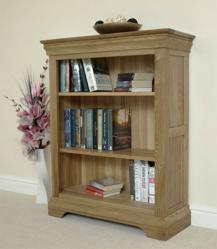 (PRWEB UK) 31 July 2012
Oak Furniture King today announced the launch of the French Chateau rustic solid oak range of dining tables and chairs. Crafted from 100% solid oak, the French Chateau collection is inspired by both traditional and modern French design.
The new range or dining tables captures the true beauty and charm of country style furniture. A look that combines both modern and traditional characteristics in one piece. The solid oak used in the construction of this piece is 100% brand new oak which has been skilfully crafted to create a look that resembles years of use.
Each piece of oak goes through a lengthy process of being seasoned and kiln dried until it is ready to be crafted. This is an essential part of the crafting process due to the thick chunky pieces of oak that are used in the French Chateau rustic solid oak range. The oak is finished in with clear lacquer which exposes the natural grain of the wood.
Oak Furniture King Owner Khaled Ullah stated, "It is important to point out that all of our tables are made from solid pieces of full length oak not finger jointed oak. Finger jointed oak is when lots of small off cuts of oak are joined together. Although this is still classed as solid oak it creates an unnatural look and it ultimately a cheaper method of production."
Oak Furniture King Search Marketing Consultant added to the announcement by stating, "Oak Furniture King has one simple aim, to provide consumers with 100% Solid Hardwood Furniture, no chipboard, no mdf and no veneers are used in any Oak Furniture King products."
Thanks to their philosophy of great products at great prices, the business aims to become one of the UK's leading home oak furniture retailers, a family-run business with the same family values. Simple values, like providing the best products at the lowest prices.