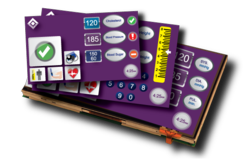 Campbell, CA (PRWEB) July 31, 2012
Amulet Technologies, a recognized leader in graphical user interface (GUI) solutions for embedded systems, announced today the expansion of its GEMstarter-kit™ and GEMmodule™ family of products to include a 7" resistive touchscreen solution with integrated LCD and graphics controller. With the new GEMstarter-kit™ and GEMmodule™, Amulet will be able to better address the growing demand for 7" solutions coming from the industrial control, green energy, and home automation industries.
Amulet products allow customers to implement great looking GUIs on their embedded applications, including 8-bit microprocessor based products, in record time-to-market. Legacy products can get a color makeover for a more contemporary look and feel without having to replace the existing microprocessor or change the products' functionality. The new resistive 7"GEMmodule™ and GEMstarter-kit™ are compatible with GEMstudio™, the quickest and easiest GUI development tool in the embedded world. By using the new starter kits, customers will be able to create a GUI that can be directly used in production. The new GEMmodule™ is a plug-and-play solution that can significantly reduce time-to-market as well as initial project resource requirements.
"It is clear to us that there has been a significant increase in demand for 7" solutions in the embedded space" said Paul Indaco, VP of Sales and Marketing at Amulet Technologies. "We have recently experienced a spike on sales of the LCD Evaluator Kit™, and customers from different industries continually ask for a 7" version of our Graphical User Interface solutions. The market response to our existing 4.3" GEMmodule™ and GEMstarter-kit™ has been phenomenal, and we anticipate an equally positive response to our new 7" solution".
The Resistive 7" GEMmodule™ and Starter Kit from Amulet will be available through Mouser, Nu Horizons, Symmetry Electronics, and Future Electronics. For more information, please visit our website at: http://www.amulettechnologies.com/products/starter-kits and http://www.amulettechnologies.com/products/modules
About Amulet Technologies
As a recognized leader in high-performance embedded graphical user interface solutions, Amulet enables product designers to easily achieve smartphone-like interfaces on new and existing microcontroller based products. Amulet's innovative GUI development tools reduce development time down to days or weeks, instead of months, or years. This allows for the many design iterations that are required to create the most dynamic user experience possible. Amulet's Graphical OS™ includes a set of behaviors and functions that eliminate the need for expensive graphic libraries and tedious programming. Amulet's production solutions include fully-integrated modules, controller boards and chips which can be implemented in a wide range of applications, including medical, industrial, home appliance, etc. Visit Amulet Technologies online at http://www.AmuletTechnologies.com.