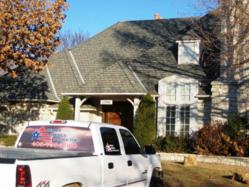 This concept home features a technically difficult roof, which will require some of the most skilled roofers in the industry… we are lucky to have these skilled tradesmen working for us
Edmond, OK (PRWEB) July 31, 2012
Reroof America Contractors has was selected to be the roofing contractor on the 2012 News 9 concept home and has now announced the dates of the 2012 tour, as August 9th – 26th 2012.
The Concept Home is an annual Oklahoma City charitable project in connection with News 9, a local custom home builder and contractors like Reroof America Contractors where thousands of Oklahomans can tour the latest in construction trends and view quality work like the roof installed by Reroof America.
JR Emrich the president of Reroof America Contractors with corporate offices in Edmond, Oklahoma has been involved in numerous charities throughout the years. As in years past, the premiere charitable events for contractors in the southwest includes concept homes and show homes. The proceeds from the Public Tour goes to Variety Care; Variety Care is a Community Health Care Center (CHC). Variety Care clinics serve hardworking Oklahoma families with limited income. The family-focused community health centers provide medical, dental, vision, pediatric and prenatal care—as well as behavioral health counseling—to some of Oklahoma's most vulnerable people.
Information on the Showhome:
Unpretentious, yet elegant, the Stonemill sub-division has quickly become the place for the finest builders and most discriminating home buyers in Oklahoma. This 6600 square foot home is custom designed by architect Gary Covert and built for a busy family. It comprises 5 bedrooms, 2 living areas, a safe room and exercise room, and an unmatched elegant exterior including the protective roofing system from Reroof America. This luxury home in the Stonemill Subdivision near Oklahoma City will showcase the latest in building products, design trends, and unique features. "This concept home features a technically difficult roof, which will require some of the most skilled roofers in the industry… we are lucky to have these skilled tradesmen working for us." said Mark Lenzer, Vice President of Reroof America.
About Reroof America
Reroof America Contractors and Reroof America Management Corporation are owned and managed by J.R. Emrich, President. The companies began in the roofing industry in 1979. J.R. Emrich and his companies operate debt free and utilize multiple suppliers in several states. Bonding capability is up to 4 million dollars. The Dun and Bradstreet credit rating for the company is 1R2 and the D&B # is 83-696-7372.
Reroof America is based out of Edmond Oklahoma, Reroof America Has Offices Around the US, having completed over 60,000 roofs in over 16 states over the past 33 years.
Reroof America's primary business is residential roof replacement; however several locations have commercial roofing divisions, window divisions and offer other residential construction solutions. Reroof America is fully licensed and insured in all states within which it operates, and is a member of NRCA, BBB and multiple local and regional associations.
For Information About Reroof America Contractors, Reroof America Corporation, Reroof America Management, or Metro Roofing, contact Mark Lenzer at: 800-755-3530 or mlenzer(at)reroofamerica(dot com) or follow reroofamerica on facebook or Google+.