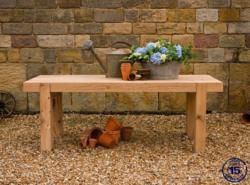 Indigo Furniture are offering an incredible £200 off any size of their Outdoor Oak Beam Table.
(PRWEB) July 31, 2012
The leading UK wooden furniture designer and manufacturer seem to have timed their latest offer just in time for the start of the British summer. They are offering an incredible £200 off any size of their Outdoor Oak Beam Table.
The solid oak outdoor tables are currently available for delivery within 2-4 weeks which is an impressive feat considering that every single table is handcrafted in Indigo Furniture's Derbyshire workshop using solid oak beams bought from a family run saw mill in central France.
It is this commitment to the materials and craftsmanship of each piece that sets Indigo Furniture apart from competitors and is part of their company identity. They go to great lengths to source the very best materials and to ensure that they cause as little environmental damage as possible.
The Outdoor Oak table design is inspired by nature itself and its simplicity of design lets the natural beauty of the Oak shine through. The table is truly a statement piece and as the wood ages and drys, after its initial 4 years of air drying, natural markings and 'cats paws' will develop in the wood giving it a unique personality and design that will not be able to be replicated by anyone else.
Indigo Furniture take so much pride in their work and have so much confidence in the quality of their furniture that they are also offering a 15 year guarantee on the special offer Oak Table.
With the sun starting to shine now is the perfect time to invest in a beautiful Outdoor Oak Beam Table designed and built by Indigo Furniture that will become a beautiful focal point of any outdoor space for many years to come.