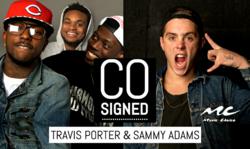 New York, NY (PRWEB) July 31, 2012
Music Choice, the multi-platform video and music network, will highlight RCA recording artists Travis Porter and Sammy Adams in the next episode of its original show entitled Cosigned. The show follows the journey of two emerging artists/bands from different backgrounds that are signed to the same record label or Management Company. The episode features Travis Porter & Sammy Adams along with J Grand, Sr. VP of A&R & Marketing, RCA Records who explains what he saw in each artist and why they were signed to their label. The show will be available nationally starting today on MC On Demand under the Original Shows category. Show Hashtag: #MCCosigned
What does it take to get your big break as an artist? Is it really as simple as being discovered on YouTube and going viral? MC sets the record straight in Cosigned, a 15 minute show. They may have come from different walks of life, but each can relate to the journey of trying to make it in the music industry.
In the past three years, no other act in hip-hop has controlled the stage, radio or clubs like the trio Travis Porter with their hysteric causing anthems. Twenty-one year old Atlanta natives Lakeem "Ali" Mattox, Donquez "Quez" Woods and Harold "Strap" Duncan have solidified themselves as rap's leaders of the new school, feeding fans with an endless barrage of hit singles and self-released mixtape bangers, such as their career turning last three monsters "Make it Rain" "Bring It Back" and "Ayy Ladies." Dedicated to the throng of fans that has been down with the group since they emerged on the hip-hop scene in 2009, Travis Porter released their official debut album, From Day 1, earlier this summer on Porter House Music/RCA Records.
RCA Records singer, songwriter and producer Sammy Adams has spent the past few months finishing up tracks for his debut RCA Records album, due out later this year, as well as playing national radio shows and touring colleges nationwide. His current single "Only One" is blowing up the charts and earlier this year he made his nationwide television debut on Conan. 24 year old Sammy Adams hails originally from Cambridge, MA and currently lives in New York City. His independent viral videos have garnered millions of YouTube views, including "I Hate College" (6 mil) and "Driving Me Crazy" (3.4 mil). He performed over 100 shows and sold over 100K tickets across North America in the last year including a set at Lollapalooza and a sold out headlining show at New York City's Terminal 5.
MC's exclusive originals get music fans acquainted with the artists they love — and help them discover new favorites. Segments from originals run on multiple platforms including MC On Demand, SWRV TV, MC Music Channels and extra bonus features on social media. MC On Demand is the #1 On Demand Network with 1.2 billion annual views. It is currently available in 51 million households.
Check out a sneak peak of the show here: http://youtu.be/h3AxcaFFelk
About Music Choice:
Music Choice, the multi-platform video and music network, delivers its music programming to millions of consumers nationwide through their televisions, online and mobile devices. MC programs dozens of uninterrupted music channels; produces MC Originals that feature today's hottest established and emerging artists; and offers thousands of music videos. MC is a partnership among subsidiaries of Microsoft Corporation, Motorola, Inc., Sony Corporation of America, EMI Music and several leading U.S. cable providers: Comcast Cable Communications, Cox Communications and Time Warner Cable. http://www.MusicChoice.com | Twitter: @MusicChoice | Facebook: http://www.facebook.com/MusicChoice