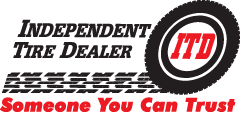 With over 200 locations throughout Missouri, Illinois, Kansas, Iowa and Indiana, finding a trusted ITD shop is easier than ever
St. Louis, MO (PRWEB) July 31, 2012
Independent Tire Dealer Group is a locally owned and operated network dedicated to competitive pricing, top name brand tires, and quality service. With over 200 locations throughout Missouri, Illinois, Kansas, Iowa and Indiana, finding a trusted ITD shop is easier than ever. Customers can call, shop online, or stop into any location to find tires in Kansas City, Wichita, and St. Louis. Carrying over 20 top brands and specializing in knowledgeable, skilled technicians, Independent Tire Dealer Group provides competitive prices while still offering the service of smaller, local shops.
ITD is able to offer its customers unbeatable pricing because it is a network of locally owned independent tire dealers that collectively can provide the best deals on top name brands such as Bridgestone, Continental, Dunlop, Firestone, Goodyear, and Toyo Tires. Providing trustworthy service from highly trained technicians, ITD strives to bring customers back for all their tire needs.
Independent Tire Dealer has locations that can be found in Kansas City, Wichita, and St. Louis, all providing the same great service and unbeatable prices. In addition, customers can research or purchase their tire needs on the ITD website at ITDroll.com. The website also offers tire care tips and tricks, current promotions and specials, as well as a location finder. For more information or to schedule an appointment, log on to ITDroll.com today.
About Independent Tire Dealer: Founded in 1995, the Independent Tires Group began in the St. Louis area by a handful of independent dealers joining forces to create a network that has expanded to over 200 locations across Missouri, Illinois, Kansas, Iowa and Indiana. ITD has access to over 20 brands of tires and offers competitive pricing with personal service for a top quality customer experience.
Independent Tire Dealer- Someone you can trust!
http://ITDroll.com was built and powered by Tire Company Solutions (TCS), the complete tire software solution company, located at 500s. Walnut Ave. Cookeville, Tennessee. Tire Company Solutions is the leader in website design, tire software, and online marketing for the automotive industry. For contact information, visit their website at http://tcstire.com