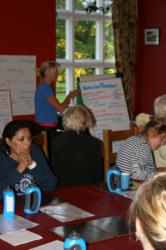 (PRWEB UK) 31 July 2012
Established in 2006 the FitFarms weight loss camp UK was the very first company to run week long residential weight loss retreats in the UK.
The success behind the programme is the variety that is injected into the exercise and nutrition programme.
The health team know the importance of mixing up the programme which shows throughout the 7 day schedule.
During the month of August alot of the exercise is conducted outside and the weeks become extremely busy but the £100 special offer will still be honoured when a course is booked before 9pm on 15th August.
Recently there has been studies and reports on how high intensity interval training is better for fat burning than more aerobic style based exercises.
FitFarms stays current with training programmes but also acknowledges there is a science behind sport.
The key is variety so the FitFarms training programme includes high intensity interval training but also lower intensity exercises to burn off calories.
FitFarms have worked with over five thousand clients over the years and have been voted the number one weight loss retreat since 2007.
The success of the fitness retreats programme is providing a comfortable caring enviroment with a broad range of activities from cycling to kettle bells.
Many of the guest that arrive at FitFarms on the first day are extremely nervous and have not exercised since school days.
FitFarms sets up an online forum for all their guest so they can meet before the course starts. They have found that this pre course approach helps with relaxing guest.
The UK fitness retreat courses run all year around and on average the camps are open 2 times per month.
Guest have the opportunity of book in the Peak District which is the main site for FitFarms north or Exmoor down on the somerset and devonshire boundaries.