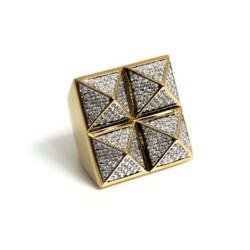 The appeal is undeniable
Belleair Bluffs, FL (PRWEB) July 31, 2012
nOir jewelry, worn and coveted by celebrity icons, such as Lady Gaga, Madonna, Rihanna, Gwen Stefani, Beyonce, Mary J Blige, and Katy Perry, can now be found at BillyTheTree Jewelry's website and physical store.
The ultra-modern, bold, and utterly distinctive line of jewelry is created by Leeora Catalan. Catalan started her career at Ralph Lauren and Oscar De La Renta, before creating nOir in 1995. Every year, the scope of the collection is expanded, with incredible new designs surprising and delighting jewelry aficionados across the globe.
"nOir Jewelry's appeal is undeniable, and their collection is a perfect fit for our philosophy and customers. We here at BillyTheTree scour the globe in search of unique jewelry designs, and we had to look no further than New York City for the next great brand that we can bring our customers," says Robin Weber, founder and owner of BillyTheTree Jewelry.
As with all other jewelry, BillyTheTree offers free worldwide shipping on nOir Jewelry, as well as a 30-day satisfaction guarantee. Popular designs such as the "Stud Pyramid" ring are already available, and the company plans to further expand the selection in the coming weeks.
nOir is a registered trademark of nOir NY, Inc. nOir NY, Inc. owns all copyrights to the jewelry mentioned in this article, except as otherwise noted.
About BillyTheTree Jewelry
Robin Weber founded BillyTheTree, LLC in 2004 while he was still a senior in high school. In the following years, the company began to grow very quickly, with many thousands of customers lauding the company's easy-to-use website and consumer-friendly policies. Since then, BillyTheTree has experienced tremendous growth, and is fast becoming the choice in quality jewelry for many tens of thousands.