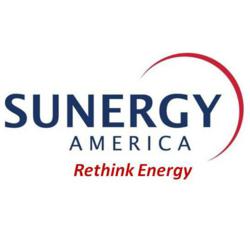 Eatontown, NJ (PRWEB) July 31, 2012
Stronger growth in the NJ solar market will become reality over the next several months, according to Sunergy America CEO Bruno D'Uva. Citing legislation signed into law last week by Governor Chris Christie, D'Uva said "this legislation will bring needed stability to the value of solar renewable energy certificates (SRECs) beginning in mid 2013. We believe this modification to the New Jersey program will create renewed growth enabled by predictable values that can be financed more easily."
As the values of SRECs begin to stabilize at or near the 2014 value of $325, owners of potential sites will have renewed economic incentives to install new photovoltaic systems. As a result, New Jersey's rate of solar development will increase without overheating and achieving one of the legislative goals of minimizing the impact of a boom and bust cycle in the solar marketplace.
Fast growing Sunergy America, a solar design and engineering firm based in Eatontown, NJ, enthusiastically welcomed this development. Sunergy has also received good news in two its other principal markets, Connecticut and Long Island.
Earlier this year, Connecticut's investor-owned electric utilities launched an innovative ZREC (zero emissions) and LREC (low emissions) program that awards RECs at the lowest values bid by prospective renewable sites. Owners of sites can select the value at which a REC is economically rational for them. The overall market, operated as an auction, determines which bids are chosen for fixed numbers of RECs. Sunergy America, as a solar engineering and construction firm, advises its clients on bid prices for the zero emission ZRECs and then designs and builds the systems for their clients.
In Long Island, a relatively new market for Sunergy America, the Long Island Power Authority (LIPA) introduced in July a new feed-in-tariff (FIT), setting very attractive prices for solar generation delivered to the LIPA grid. This new program is especially attractive to owners of large sites who require little of the generated electricity for their own use. Warehouses and landfills are examples of site uses that may derive the most benefit from the FIT.
Sunergy's D'Uva is upbeat about the new solar landscape drawing increasing numbers of owners of commercial sites to install solar systems. Over the past several months, the cost to install systems has declined by up to 50%, now in the $3-$4 per watt range. New financing options are beginning to take shape, most notably tax equity leases by which up front costs are discounted by the 30% investment tax credit, and the full benefit of the system is returned to the site owner after a lease period of as little as 7-10 years. For the remaining life of the system of 15-18 years, the site owner pays nothing for the use of the electricity generated and receives all the SRECs or ZRECs available. Couple these developments with the more reliable incentives being offered for renewable power and, according to D'Uva, "site owners have compelling financial incentives to install solar systems, now supporting the overwhelmingly obvious environmental case. I'm anticipating banner years for solar in 2013 and many years to follow."
Sunergy America provides complete alternative energy solutions for commercial, industrial and institutional organizations including solar power and cogeneration systems. Our services include design, engineering, financing, compliance, procurement, construction, monitoring and maintenance. Please visit our website at http://www.sunergyamerica.com.