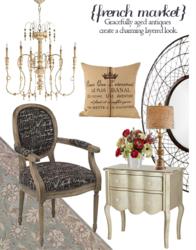 The French Market style is about mixing, matching and discovery.
Los Angeles, California (PRWEB) July 31, 2012
Summer is usually the season most people put their home decorating ideas into action. Summer is also open season for secondhand shoppers with flea markets, swap meets, yard sales and estate sales seeming to spring up every weekend. Luckily, this season's hottest home decor style trend happens to be one that meshes perfectly with the vintage shopping experience: the French Market look.
"French Market style isn't new per se, and yet we're hearing about it everywhere, in magazines and from our customers too," explains Vice President of Internet Marketing for Lamps Plus Angela Hsu. "Lamps Plus has always offered new furniture and accessories to fit this ageless look, and now, with the increased interest in the style, the Lamps Plus Design Team has produced a 'Get the Look' video to give our customers a few French Market home decorating tips."
So what is the French Market look? Lamps Plus designer and blogger Marcia Prentice provides an overview of its basic tenets: "The French Market trend mixes and matches distressed furniture and chandeliers; curved, carved and scrolling details; and textiles with subtle patterns and washed-out textures."
Getting this hot summertime look is as simple as breaking it down to its component parts:
Style in Distress
French Market furniture can appeal to vintage shoppers and antiquers, precisely because it requires furniture with antiqued finishes. Prentice elaborates: "Distressed furniture and lighting fixtures are central to the French Market look. Look for burnished bronze and brass finishes on chandeliers and furniture with aged, antique characteristics such as scrapes, cracks and even peeling paint. You can replicate this look with your existing furniture by simply rubbing it with an abrasive (such as sandpaper or an old terra cotta pot) and refinishing in a new stain." Consumers who prefer to forgo the dirty work can get the look with ease by shopping online furniture retailers like Lamps Plus who offer brand new designs with a professionally distressed look.
Curved and Carved
French Market furniture and lighting relies heavily on details. Chandeliers are marked by generous curved scroll work. Furniture, while distressed in finish, has a regal form to it. Prentice explains the signature look: "Look for traditional furniture with old world elegance. Bombe cabinets – the rounded, inflated furniture pieces one would generally associate with European courts – feature prominently. So too do elaborately carved S-shaped cabriole legs."
Textiles to Tie It All Together
At its heart, French Market decor is comfortable and informal. Textiles add a soft and organic finishing touch to the look. Prentice offers some advice on how to buy accent pillows and throw blankets that complement the style. "Look for textiles with subtle patterns and washed textures. Whether you're going for the Parisian apartment or a Provencal country manor look, this style is casual and cool. Buy rugs, pillows and blankets adorned with French or even Latin script for that special French Market 'je ne sais quoi.'"
"This is a style that's recession friendly," notes Hsu. "By mixing and matching used flea market finds and new home decor and accessories, consumers can unlock the French Market look on a budget, and they'll have fun while they're at it. Lamps Plus will continue to produce a 'Get the Look' video series in the coming months to help consumers discover the latest hot trends and home decorating advice."
About Lamps Plus
For more than 30 years, Lamps Plus has been synonymous with excellence in the lighting retail industry. Established in 1976, Lamps Plus is the nation's largest specialty lighting store, with more than 40 superstores throughout the western United States. Together with their retail lighting stores and online business, Lamps Plus serves customers nationwide with the largest selection of functional and decorative lighting fixtures, accessories, furniture and home decor. This selection includes hundreds of products available exclusively from Lamps Plus. Services include in-home lighting consultations, in-store lighting workshops and installation from expert, licensed electricians. American Lighting Association certified lighting designers are available to offer product recommendations and lighting advice in all our stores, by phone or online at LampsPlus.com.