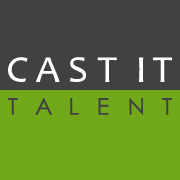 (PRWEB) July 31, 2012
Cast It Talent is proud to introduce Emily Grace as a new contributor to the Cast It Talent Blog. Emily Grace is an award-winning actress, producer and entrepreneur. As an actress, she is a graduate of NYU's Tisch School of the Arts, has studied with the legendary Wynn Handman (American Place Theatre), and starred in the Sundance and Deauville award-winning film "What Alice Found" opposite Judith Ivey and Bill Raymond. As a producer, she is a former co-founder of Bad Girl Productions, the company that brought you viral video "The Hair Petting Game." She has worked with film finance and production company Indomitable Entertainment (Soul Surfer, Red Machine). As an entrepreneur, Emily created Emily Grace Productions. She combines all her skills as an actress, producer and marketing expert to help fellow actors think like a producer, so they can act for a living.
Cast It Talent is the way for actors to manage all of their media and information, and keep it on file and accessible to the 600+ casting offices using Cast It. Additionally, actors can easily submit themselves to today's working casting directors because Cast It has over 200+ acting jobs per week that actors can submit to, including exclusive online open call searches from the major studios. Cast It Talent's blog is dedicated to providing news and advice the acting community.
Check out Emily's first blog, 'Go From Auditions to Offers' http://www.castittalent.com/blog/2012/07/go-from-auditions-to-offers/