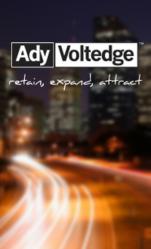 Conducting a target industry analysis is one of the most effective ways for a region to boost its marketing efforts, since the analysis determines a region's target audiences and what locational assets the region can highlight in its mark
Madison, Wisconsin (PRWEB) July 31, 2012
Ady Voltedge, an economic development marketing firm, has released the white paper "Target Industries: From Identification to Implementation," which details its Target Industry Analysis service that has helped counties grow economies and boost business attraction nationwide.
The white paper, which can be found on Ady Voltedge's website, describes how economic development organizations can benefit from identifying "target" industries, meaning industries that are likely to succeed in a particular region.
Janet Ady, president of Ady Voltedge, said it's very important that economic development organizations establish their target audiences, which is exactly what Ady Voltedge's Target Industry Analysis does.
"One of the foundations of marketing is the goal of effectively communicating a product's strengths or features to a target audience," Ady said. "This is essential in any industry, especially economic development. And in the case of economic development, your product is what you have to offer your target audiences, which are industries that are suited for those assets you have to offer."
According to Ady, conducting a target industry analysis is one of the most effective ways for a region to boost its marketing efforts, since the analysis determines a region's target audiences and what locational assets the region can highlight in its marketing communications.
Jennifer Laurent, executive director of the Marshall County Economic Development Corporation in Marshall County, Ind., said her organization has benefited greatly from the Ady Voltedge Target Industry Analysis and is an example of how the analysis impacts marketing efforts.
"My board and I are so pleased that we chose Ady Voltedge as our partner so that we have quality data and strategy to help us focus our resources," Laurent said. "We pull out the target industry study and marketing plan regularly to guide our efforts."
Ady Voltedge is an economic development marketing firm that helps community and economic development organizations retain, grow, and attract residents and businesses to its city or region. Based in Madison, Wis., Ady Voltedge's clients include economic development organizations, convention and visitors' bureaus, chambers, and municipalities as well as utilities, associations, cooperatives, state agencies and private companies.