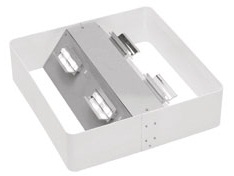 (PRWEB) July 31, 2012
One Stop Green, an international distributor of green, energy efficient products and services, now offers the World's Most Efficient Canopy Light for gas stations. The 52w GC Series Gas Canopy Light replaces 250W HPS, HID or incandescent fixture. The GC series canopy light is designed for clean, even illumination under the canopy for vehicle and pedestrian security and safety and ActiveLED's from Ringdale are warrantied for ten years and in most cases last up to thirty years.
One Stop Green helps small businesses identify and implement environmentally friendly solutions that save money and increase productivity. With the addition of ActiveLED Canopy Light to One Stop Green's line of already comprehensive lighting products, they now offer the best, most efficient gas station canopy lights in the world.
The GC Series ActiveLED light can help gas station owners save as much as 95% on Energy Cost. Each light is made in America, specifically in Georgetown, Texas and comes with a warranty performance, which guarantees an extremely long life cycle. While other competitors can only estimate energy savings and ROI numbers, the quality and technology behind
ActiveLED products allow One Stop Green to quantify your exact savings and is even guaranteed to deliver. The patented design produces a brilliant white light with fewer watts making it the most efficient canopy light on the market delivering immediate savings derived from energy and maintenance costs. One Stop Green offers GC ActiveLED products for gas station canopy lights and even offers various other LED lights for exteriors, commercial office, commercial retail and manufacturing, and even grow lights.
The secret to the longevity of this LED lighting system is the proprietary Light Space Manager that interconnects ActiveLED fixtures into easily managed zones making the LED lights intelligent allowing it to prolong battery and light life while minimizing light pollution by allowing the systems to be in ActiveRest. An intelligent lighting fixture will power down to 40% light output and then come to life only if motion is detected in the parking area and also allows it to be programmable via computer, phone, or tablet. So for these gas station canopy lights, the gas station owner could have the lights go into ActiveRest at midnight when the gas station closes in which the lights would power down to 30-40% output - at 40% brightness, ActiveLED fixtures consume only 9% of the wattage and still produce considerable light. As soon as a car pulls into the gas station, the sensors would pick up the motion and automatically take the lights in that particular section of the canopy back to 80-100%. Light output. Then 15 minutes later, or whatever time the owner chooses, it again powers down to minilam output saving the business owner even more energy and money, but also contributing to the overall life of the lighting fixture itself.
At the end of the light's life cycle, One Stop Green will even buy the light back to recycle and re-use, truly a Green Product. With zero out of pocket maintenance costs on all fixtures and guaranteed energy savings of over 90%, usually more than that, this lighting system in most cases pays for itself in less than three years, also guaranteed in writing.
One Stop Green, LLC facilitates environmentally friendly improvements to residential and commercial properties through distribution of green, energy efficient products and services. They offer every product needed for sustainable energy independence enabling homeowners, businesses and commercial property owners to master their usage by reducing waste and implementing efficient energy consumption methods. Their goal is to provide user friendly and practical long-term solutions to existing inefficiencies and their carefully selected products and professional installers offer a higher level of satisfaction and service for their customers.
Contact:
Nathan Kaufman
http://www.OneStopGreen.com
P: 877.449.9110|O: 713.541.2739|C: 210.846.5900
# # #