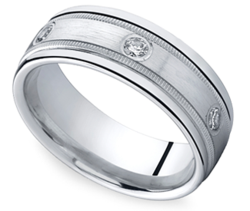 (PRWEB) July 31, 2012
Today's groom wants something unique with their wedding band. Beyond being a traditional symbol of matrimony and commitment, industry surveys have revealed how men want their wedding ring to reflect their individuality and lifestyle as opposed to looking store-bought and commonplace. Marketing studies also show how more and more customers now prefer doing all their online purchases in one go.
A look at http://www.brilliance.com/mens-wedding-rings reveals hundreds of wedding ring choices, material, and price ranges for the groom. Customers can choose a stunning piece of engagement or wedding jewelry for as low as $125. In keeping with the demands of the times, Brilliance offers customization to provide a truly one of a kind wedding band for a client. Included in their services are engraving and other jewelry design requests.
The company observed some interesting trends among modern grooms. Most prefer white gold as their wedding ring metal, with satin and brushed finishes the most popular men's choices. In a surprising twist, many actually want diamonds incorporated in their wedding bands. Recently, Brilliance customized an impressive man's wedding band for a customer who ordered 2.5-carats worth of diamonds for it.
Featured in the Brilliance roster of men's wedding rings are alternative metals including titanium, palladium, and cobalt. These are fast becoming the wedding band material of choice among men, as they are durable, classic-looking, and hypoallergenic. Aside from being cost-effective, these metals require very little maintenance and look as good as their more expensive cousin, platinum…at a fraction of the price.
Brilliance steps up to the challenge of meeting these particular requisites by providing a one-stop shop for all engagement and wedding jewelry needs. The company aims to supply rings with maximum comfort and solid construction to withstand daily wear. Moreover, Brilliance enhances the customer experience with a secure Live Chat feature on its site, http://www.brilliance.com for any queries, at any time.
Company director Jonathon Ohayon tells of a correspondence he had with a customer from Chicago about men's wedding rings. The woman told him:
"Do you know how much it cost me to find you? I got ripped off 3 times from online jewelers!"
Brilliance assures honesty and integrity with every purchase, and is aiming to put out hundreds of men's rings. The company offers a lifetime warranty for every ring it offers, which includes resizing at no cost.
Further information on customization and other concerns on Brilliance products and services can be had by emailing service(at)brilliance(dot)com, or calling toll-free at 1-866-737-0754. Learn more about the many high-quality wedding band options for men, and all prices and designs at http://www.brilliance.com/mens-wedding-rings.