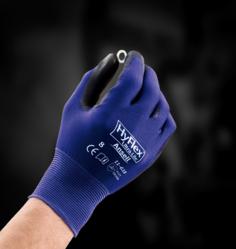 During testing, HyFlex 11-618 gloves proved highly acceptable to workers because they are lightweight, flexible and very comfortable.
Red Bank, NJ (PRWEB) July 31, 2012
Ansell is lightening up its hand protection line with new HyFlex® Ultra-Lite 11-618 work gloves, the lightest gloves with a liner and coating that Ansell has ever offered. Made with a nylon liner and polyurethane coating, HyFlex 11-618 gloves are .8 mm thick and 20 percent lighter than similar Ansell products.
An ultralight-weight 18-gauge seamless liner enhances flexibility, tactility and handling efficiency. The polyurethane coating covers only the palm and fingers, allowing greater breathability and comfort.
Offering a Level 3 rating for abrasion resistance and Level 1 for cuts, HyFlex 11-618 gloves are ideal for a range of applications requiring a higher level of touch and precision, including light and final assembly, white goods and electrical goods manufacturing, cosmetics/plastics, finishing works and applications that require workers to pick up and fit small pieces such as bearings and springs.
The gloves are appropriate for dry and slightly oily environments.
"During testing, HyFlex 11-618 gloves proved highly acceptable to workers because they are lightweight, flexible and very comfortable," said Laura Proctor, Senior Marketing Manager, HyFlex/Industrial Gloves, Ansell Protective Products. "The gloves are especially appropriate for applications in which workers typically wear cotton products or no gloves at all. The fact that they are comfortable and light enough to wear all day helps ensure compliance."
HyFlex 11-618 gloves are durable and feature a dark blue liner and black coating for environments with a certain degree of dirt. They show no dirt, which helps reduce glove waste.
New HyFlex 11-618 gloves are suited to the automotive and automotive OEM industry, aerospace, white goods, power tools, transport equipment and electrical machinery industries—among others. They are offered in sizes 6-11 to provide optimum fit and comfort for every worker.
For more information about Ansell HyFlex 11-618 gloves or other protective gloves, apparel and safety solutions, visit http://www.ansellpro.com or call 800.800.0444 in the US. In Canada, visit http://www.ansellcanada.ca or call 800.363.8340.
About Ansell
For many decades, Ansell has innovated and led the hand protection and safety apparel industry. The company offers comprehensive business solutions to help manufacturers meet and exceed PPE standards. With its regional U.S. headquarters in Red Bank, N.J. and operations in Canada, Latin America, Europe, Asia and Australia, Ansell manufactures and markets six core occupational safety brands – HyFlex, PowerFlex, Vantage, Sol-Vex, AlphaTec and Touch N Tuff gloves. Ansell serves a wide range of industries, including chemical manufacturing and refining, automotive, food processing, general industrial, pharmaceutical, pulp and paper, construction, white goods, semiconductor and electronics manufacturing and primary metals.