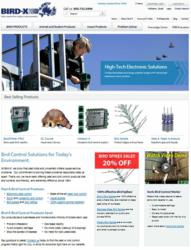 (PRWEB) July 31, 2012
Bird-X recently launched a new website that creates a learning experience and a shopping experience like no other in the bird control industry. Having been in business for nearly fifty years, Bird-X is able to provide a wealth of information in conjunction with an impressive variety of pest and bird control products, all of which are humane, eco-friendly and extremely effective.
The new Bird-X website is especially useful to facility managers, pest control operators, business owners and others who wish to solve a bird or pest problem. When searching for pest control products online, one can feel overwhelmed by options being sold by new start-up companies, retail chains, hardware stores, resellers and bloggers on the internet – especially with the number of lower-quality 'imitation' products on the market.
Here's how the new Bird-X website improves the user-experience:
1. Bird-x.com is a user-friendly e-commerce website that is easy to navigate – the shopping process is simple, seamless and professional, allowing e-customers to browse product categories, read recommendations and testimonials, and receive tips for a higher probability of success.
2. Bird-X.com helps consumers learn more about pest birds, pest control, best practices, product options, and more. The Knowledge Center contains scientific research, case studies and a detailed FAQ section – covering everything from the risks of pest bird infestation to the benefits of 'green' pest control. The Bird-X Blog is another valuable resource, with regular updates and stories from the front lines of pest and bird control.
3. Bird-X.com makes it easy for users to find the right product(s) for a specific application. The Problem Solver allows site visitors to choose the type of location to see what solutions might apply. For instance, someone with a pest goose problem on their golf course can click on 'Golf Course' to read a situational overview and to view product recommendations and demonstration videos.
4. Bird-X.com makes it easy to get advice. The FREE Evaluation tool allows users to describe their particular problem and receive feedback from a trained expert. Bird-X has the most knowledgeable sales consultants in the industry and they are eager to assist customers in finding the best possible solution for their problem.
With the new Bird-x.com, consumers know that they are getting their information and products from the industry leader. Visit http://www.bird-x.com to learn more.
About Bird-X, Inc.
Bird-X is the leader in producing humane pest and bird repellent products, since 1964. We offer the most comprehensive line of bird control products that are humane, non-toxic and eco-friendly. Our bird deterrents range from state-of-the-art laser technology to sonic/ultrasonic bird control, goose and pigeon repellents, bird netting, bird spikes, visual scares, and animal sound repellers.