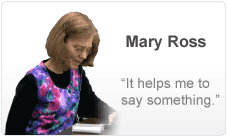 VAST has increased my mom's ability to express herself with speech and language exponentially - Abby Ross
Arlington, VA (PRWEB) July 31, 2012
SpeakinMotion, LLC is pleased to announce the launch of the VAST® Custom Recording Service! This service has been used in many speech language centers as part of SpeakinMotion's clinical trials, with great results.
At the most basic level, a VAST video is a close-up video of a trained model's mouth (along with synchronized audio) as they speak (or sing) a written script. This application of video technology can be highly effective to facilitate and improve communication abilities for speech-impaired individuals.
The user watches the video (and possibly written text), listens to the audio, and attempts to speak simultaneously. With repetition and practice, this allows individuals to speak full sentences and communicate themselves.
The VAST Custom Recording Service allows users the freedom to deliver unique messages and speech language professionals the ability to customize their VAST therapy plan. SpeakinMotion makes this possible by recording and processing the VAST videos using its professional equipment, trained models and custom software. The service includes features such as 3 different speed rates and inclusion of text. These features truly tailor to the varying needs of VAST users which maximizes the likelihood of success.
Users of VAST videos include individuals with Autism (childhood Apraxia), acquired Apraxia, non-fluent Aphasia, and other motor speech disorders. Professionals have been using VAST videos as "take-home" practice to reinforce speech therapy goals with their students.
VAST users have used custom recordings for special occasions such as Anniversaries, Birthdays, and Bar Mitzvahs as well as to communicate personal messages such as phone messages, introductions and daily interactions.
The possibilities are endless!
SpeakinMotion is currently offering promotional pricing on VAST custom videos for a limited time.
http://www.speakinmotion.com/campaigns/9/