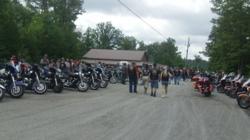 It was remarkable to see 700 of the coolest bikes all parked together and to meet this group of fun loving firefighters. Amy Sellin, Red River Gorge Zipline
Campton, KY (PRWEB) July 31, 2012
What goes with roaring motorcycles and firefighting heroes? Ziplining of course!
The Red River Gorge Zipline Tours and Cliffview Resort were proud to host a day of the 2012 National Rally for Fire and Iron, the Firefighter's Motorcycle Club.
This five day event included several rides throughout Kentucky.
On Friday the whole group rode from Winchester to The Red River Gorge with the help of local police officers who provide escort along the route for this epic ride.
Roughly 700 bikes cruised down the Mountain Parkway to enjoy all that the Gorge has to offer. At the Cliffview Resort Activity Center, they set up several large grills, and prepared hundreds of hotdogs and hamburgers . There they had the opportunity to sign up for their exhilarating zipline and canopy tours and the very exciting Hummer tours. Nearly 100 of the guests participated in the Red River Gorge Zipline or Off Road Tours.
The others took the opportunity to ride through the Gorge, check out Natural Bridge or simply enjoy the unparalleled natural beauty the Red River Gorge has to offer.