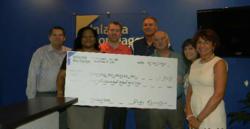 ... it is more important than ever to have strong technical knowledge of the loan programs to serve the first time homebuyer.
(PRWEB) July 31, 2012
Housing Resources, Incorporated (HRI) is a nonprofit organization dedicated to helping individuals and families purchase their own homes. Inlanta Mortgage is an organization dedicated to helping people realize the dream of home ownership.
Recenlty, members of both organizations met to discuss the struggles many new home buyers are facing in South East Wisconsin with today's economy and tighter lending environment. Executive Vice President Nicholas J. DelTorto welcomed HRI Executive Director Trena Bond and HRI Board Member Tammy Maddente (also of First Weber Group) to Inlanta's Brookfield, Wisconsin headquarters for a working lunch to discuss how Inlanta can support the efforts of HRI as it helps potential homeowners with the challenges they face. lnlanta Mortgage affirmed its support of HRI's initiatives with a $1,000 donation. Additionally the company will be available to participate in many of the first time homebuyer seminars sponsored by HRI in greater Milwaukee, Racine, and Waukesha.
"The challenges facing many first time homebuyers are tougher than ever since the mortgage market meltdown," DelTorto said. "The underwriting guidelines and documentation requirements have become very strict with little to no flexibility, so it is more important than ever to have strong technical knowledge of the loan programs to serve the first time homebuyer. The loan officers at Inlanta are the best and most knowledgeable in the industry because mortgages are all they do every day."
Inlanta and Bond look forward to further developing a relationship and finding new ways to help area residents realize the dream of home ownership. Inlanta Mortgage – Brookfield Manager, Adam Deputy was on hand to pledge his support and offer the assistance of his experienced team of mortgage loan professionals.
Bond and her team at HRI currently offer a number of services for homebuyers and homeowners including: post-purchase education and counseling, reverse mortgage counseling, a tool loan program, and down payment and closing cost grant assistance. HRI operates offices in Milwaukee, Waukesha, and Racine and be found online at http://www.hri-wi.org.
About Inlanta Mortgage
Headquartered in Brookfield, Wis., Inlanta Mortgage was established in 1993. The company has grown to 28 branches in 14 states and nearly 200 employees. Inlanta Mortgage provides its partner branches with Fannie Mae/Freddie Mac agency products, as well as a full suite of jumbo and portfolio programs. The company is delegated FHA/VA, FHA 203K and USDA approved.
Inlanta Mortgage has been listed on Mortgage Technology's Top 25 Tech Savvy Lenders List in both 2010 and 2011, Milwaukee Magazine's "Top Mortgage Professionals", and Milwaukee Business Journal's "Top 25 Largest Milwaukee-Area Mortgage Banking Companies." Inlanta has also received the Platinum Million Dollar USDA Lender Award and was a finalist for the 2010 Mortgage Technology Award.
The company's platform supports high producing professional partner offices with the latest technology and product menu focused on unsurpassed service and quality to both the consumers and employees. Inlanta takes pride in the highest level of honesty, integrity and ethics in all its business dealings. It is a member of numerous state Mortgage Bankers Associations and Lenders One, the largest cooperative of mortgage bankers in the nation. Inlanta is an accredited member of the Better Business Bureau with an A+ rating. For more information, please call Inlanta Mortgage at 262-439-4260, email info(at)inlanta(dot)com or visit the company's website at http://www.inlanta.com.