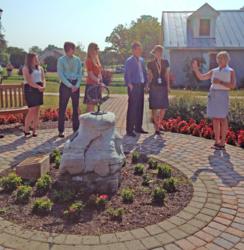 It's a lot to take on, but it is amazing. You have to come see it to believe it.
Hershey, PA (PRWEB) July 31, 2012
The oppressive summer heat didn't diminish the enthusiasm of the latest group of men and women preparing to begin new careers as Milton Hershey School houseparents. They stood in the morning sun outside of The Homestead as Susan Alger, Coordinator of the MHS Heritage Center, regaled them with stories of how the landscape of the home and school around it have changed significantly through the years. The Homestead is the birthplace of Milton S. Hershey and where he also returned on his 88th birthday, a month prior to his death on October 13, 1945. The Homestead initially served as the school and the home for boys who were in need of Mr. and Mrs. Hershey's care and has been an important structure in the life of Milton Hershey School since 1910.
The Homestead was just one of the stops along the tour of Hershey landmarks which included the Hershey Cemetery as well as Kinderhaus, Derry Church School, and the Hotel Hershey. The tour is one way in which new houseparents are familiarized with the school and its surroundings. Right now there are seven couples in training with another twelve couples slated to begin training in September.
A look at the six-week training calendar provides just a glimpse of the countless responsibilities which houseparents take on. Driver training, CPR/First Aid training, Bullying Prevention, Security, Serve Safe, Social Work, and Active Listening are just a handful of the many training workshops required of the new couples who come from across Pennsylvania as well as Florida, Colorado, and Oklahoma.
On this day's "Heritage Tour" MHS's newest houseparents said they were struck by Milton and Catherine Hershey's background of philanthropy. Christopher and Christa Wagner of Butler, PA applied to be houseparents after Christopher's brother Lynn and sister-in-law Tanya had taken on the same job about a year ago. "My brother and his wife have been here, and they love it. Hearing his stories, coming to visit the campus and see what was going on, I was very impressed," explained Christopher. "Now, walking around, seeing the accomplishments Milton Hershey had in his life, and not just that, but seeing all the resources he put toward giving to others, it is pretty astonishing."
Angelo and Shavanta Rinaldi moved from Port St. Lucie, Florida to take on the role of houseparents. They are looking forward to beginning their work, caring for children, and promoting the mission of Milton Hershey School. "The strong sense of tradition, the strong sense of pride. It is all very humbling. Very impressive," Angelo noted.
In addition to learning about Milton and Catherine Hershey, the Rinaldis were impressed with the other men and women who have worked throughout the years to make the school a success and continue the Hershey legacy. "I really enjoyed hearing about Mr. Copenhaver as well as the Hersheys," Angelo added.
These houseparents know that in addition to a rich history, there is also an exciting and challenging future ahead. "It's a lot to take on, but it is amazing," noted Shavanta. "You have to come see it to believe it."
Applications for Houseparent employment are now being accepted for a training class in October 2012 and for a class during the first quarter of 2013. If you are interested in learning more about becoming a houseparent at Milton Hershey School, contact our Human Resources Department at 717-520-2317 or visit http://www.mhskids.org/careers/houseparents.
Milton Hershey School is a cost-free, private, coeducational home and school for children from poverty. The School is funded by a trust established by Milton S. Hershey and his wife Catherine. Milton Hershey School offers a positive, structured home life year-round and an excellent pre-kindergarten through 12th grade education.