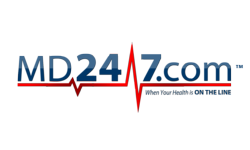 MD247.COM and ATA
Tampa Florida (PRWEB) July 31, 2012
The telemedicine provider MD247.COM announced its ongoing support and sponsorship of the American Telemedicine Association website, which can be located online at http://www.americantelemed.org. The sponsorship of the website has been a "work in progress" for the MD247.COM Marketing Team, but came to fruition with the placement of banner advertisements on July 31, 2012.
The MD247.COM Marketing Team would like to see the sponsorship of the American Telemedicine Association website lead to MD247.COM reviews of additional telemedicine websites for potential sponsorship.
The American Telemedicine Association is the leading international resource and advocate promoting the use of advanced remote medical technologies. ATA and its diverse membership, works to fully integrate telemedicine into transformed healthcare systems to improve quality, equity and affordability of healthcare throughout the world. Established in 1993 as a non-profit organization and headquartered in Washington, DC, membership in the Association is open to individuals, healthcare institutions, companies and other organizations with an interest in promoting the deployment of telemedicine throughout the world. ATA is governed by a Board of Directors, which is elected by the association's membership.
Largo Florida based MD247.COM (MD247; MD/247; MD 247; M.D.247; MD-247) provides an affordable telemedicine supplement to existing healthcare services. MD247.COM telemedicine program members have unlimited telephone access to a nationwide medical support team, all with just a single phone call to the MD247.COM telemedicine Talk to a Doctor/Talk to a Nurse Hotline. MD247.COM has a virtual platoon of registered nurses; board certified physicians and a support staff available to members for all non-emergency situations. More information about MD247.COM is available online at http://www.md247.com.