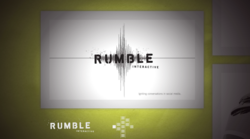 The website, which eliminates copy-heavy text, showcases instead a variety of full, fresh photographs.
Sacramento, CA (PRWEB) July 31, 2012
Rumble Interactive (Rumble), social media affiliate to Sacramento-based advertising firm, Glass Agency, launches its new website this month. Innovational application of existing web technology provides users a visually stimulating and one-of-a-kind experience.
Release of the new website showcases Rumble's advanced web design by way of its unique navigation system. Exploiting the latest trends in graphical user experience, the website innately directs users with visual clues through the site. Shuffling in any direction, users effortlessly maneuver from client work, to company information, to contact pages. The website, which eliminates copy-heavy text, showcases instead a variety of full, fresh photographs. The end product, an originally designed webpage that is simple to use and enjoyable to visit.
RUMBLE INTERACTIVE
While the website is new, Rumble has provided clients brand engagement through digital applications and social media since 2008.
Rumble focuses heavily on content creation to promote customer interaction in the social space, engaging, communicating and building brand trust with consumers. By accurately researching and targeting optimal outreach to the appropriate audiences, Rumble encourages organic growth between brands and brand advocates.
Specific Rumble work includes gaming applications, custom images, content and profiles, video production, ad buy planning, analytical reporting and more. Rumble Interactive assists clients with basic startup direction or advanced growth strategy. It puts brands on the forefront and consumers in their direction.
Brands that have benefited from Rumble efforts include government clients Amtrak California and the California Office of Traffic Safety, retail giants Save Mart and Lucky Supermarkets, quick service restaurant Togo's Sandwiches, as well as consumer packaged goods Hinode Rice.
Enjoy the experience at rumble.com. Become a Rumble fan on Facebook and follow on Twitter for the latest news and updates.