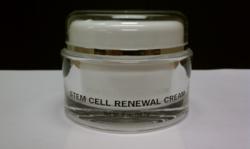 (PRWEB) July 31, 2012
Stimulate skin cell regeneration and produce collagen at a faster rate with ABBE's New Stem Cell Renewal Cream derived from rare Swiss Apples (Malus Domestica), a natural approach.
This advanced liposomal preparation will enhance the vitality of your skin as significant and visible decreases in wrinkle depth will be apparent with continued use. Studies have shown that after 2 weeks, there is a reduction in crows feet of 8% and after 4 weeks, 15%. Malus Domestica Apple Stem Cells also up-regulate specific genes involved in repair of DNA.
Stem cells in the human body develop and mature into more specific cells such as skin cells and other organ and bone cells. Skin Stem Cells are the source of continuous regeneration of the cells of the epidermis. Apple Stem Cells ensure the longevity and health of aging skin cells. They offer excellent anti-wrinkling effects and combat chronological skin aging. Normal human Skin Stem Cells are slow to renew and have a very short life span. Apple Stem Cells have a longer life span because they are able to divide multiple times. Hence, they keep helping to fight the signs of aging.
ABBE's Stem Cell Renewal Cream also contains a combination of Hylauronic Acid and Sodium PCA keep skin moisturized and supple. Squalane helps to lock in moisture, softens the skin and increases penetration of additional beneficial ingredients such as Hops, Lemon, Pinetree, Horsetail & Rosemary Extracts.
The light, delicate texture of this unique cream, allows for rapid absorption to the skin and immediate application of make-up. Rejuvenate and renew your skin with ABBE's Stem Cell Renewal Cream.