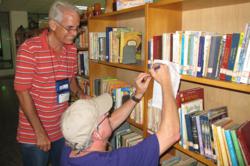 We were stunned at how enthusiastic the Cuban children were about reading.
HELENA, Ala. (PRWEB) July 31, 2012
When librarian Meta Reid stumbled across a rural library in Sancti Spiritus, Cuba earlier this summer, she immediately stopped in to meet the locals. What she saw in the library's Children's Room brought her to tears and sparked an innovative community project for tour operator International Expeditions.
"The state of the books made me want to cry," said Reid of Troy, NY. "None the less, two children eagerly came in the room selected a very well-worn title and sat to read. Books, even in this state, were exciting."
After leaving that small library, Reid sat down with IE Executive Director Steve Cox, who was leading her small-group of travelers on one of the company's inaugural people-to-people journeys to Cuba. In a country where government regulates what citizens see and hear, a philanthropic donation of books can be problematic. Bringing books for adults past a customs officials may well cause concern, as there is no way to judge quickly the contents. With children's books, particularly picture books, there is far less regulation or suspicion.
Havana's Ruben Martinez Villena Public Library operates with a relatively small number of old, tattered books. This July though, IE delighted guests with a surprise excursion to this public library, where they donated popular children's titles and shared memories of their favorite classic tales, while spending the afternoon with children's librarian Adrian Guerra.
"The children were attentive to the books without being greedy," said Cox after presenting copies of popular Dr. Seuss and Harry Potter books. "They handled the books gently. We were stunned at how enthusiastic the children were about reading."
Guerra called the donation of books "Heaven sent" for the children.
For decades, legal travel to Cuba has been impossible for most Americans. International Expeditions' license to provide authorized people-to-people Cuba travel for U.S. citizens allows the company to offer an in-depth look at this once-forbidden island. Not only does this license allow guests to travel to Cuba legally, but it provides the opportunity to experience Cuba in the most authentic way possible — through the eyes of its people — while enjoying engaging, educational encounters with Cuban musicians, biologists and artists. IE's 10-day Cuba program starts at $3,998 per person.
Celebrating 32 years of engaging and authentic nature travel, International Expeditions specializes in small-group journeys to Earth's most exhilarating destinations. For more information or a brochure, call IE at 1-800-234-9620 or visit http://www.IEtravel.com/Cuba.