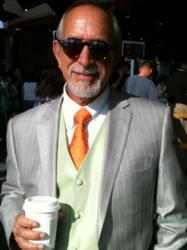 Bare ankles are not the statement one wants to make.
Boynton Beach, FL (PRWEB) July 31, 2012
The latest fashion sizzle from top magazines like GQ and Details is about men sporting dress pants and dress shoes sans their socks! Whowuddathunkit! Certainly not fashion consultants like Giovanni Marquez, or anyone else with any fashion sense. 1956 was the year of James Dean and the same year Californians began wearing kakis, a blue blazer, boat shoes with no socks; that did make a fashion statement about being nuevo-riche or at least to dress for casual success. Perhaps one was heading for their yacht or perhaps just to the marina as though one had a yacht. It began in late August at the San Diego pier and rippled across the country until it reached New York City where the statement took root in fashion mens wear and remains embedded today. But, friends, kakis and a blue blazer are very different from an Italian Novello Suit and Fiesso Leopard Slip Ons. Bare ankles are not the statement one wants to make.
Moreover, bare feet pressed to a leather insole for an hour creates multiple problems and we'll explain them one at a time right now. First, there is a stickiness issue. As pretty as dress shoes are, they do not wick away moisture. One hour of bare feet sticking to the leather in a high quality mens shoe would be liking stepping on gum! Second, the smell created by bare feet on leather would likely introduce a "who dunnit" by family and friends. "Did an animal die," might be asked by any number of people. Accidental foot odor may be forgiven by family, friends or colleagues but deliberate foot odor for the sake of fashion is unwarranted. Third, why would anyone annihilate a fabulous dress shoe that cost more than $100.00 and never draw a compliment in the process.
Imagine for a moment that you're going to a party. Perhaps you have decided that this was the time to put together a special look that paired a magnificent Bertigo shirt from your men shirts collection with a spectacular Veronesi Wide Leg Pant, and a new pair of Vito della Mora Italian Leather Lace-up. You arrive at the party, grab a Johnny Walker Blue on the rocks and sit cross-legged in a crowd of party goers. At what specific moment do you believe the blonde looking your way is going to give you a compliment about your boney, bare and unsightly ankles? If she does; write to us at reply(at)fsbmens.com and we'll run your story in our blog. Save your shoes... save your reputation... wear coordinated socks!