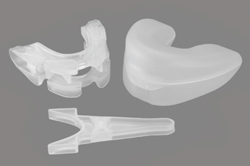 New York (PRWEB) July 31, 2012
Have you ever asked the question "How do I stop snoring?" Now the solution may be as simple and purchasing VitalSleep. It is made of a flexible, latex free and BPA free material that molds to the shape of the mouth. However, unlike most other products, this device is unique because it can also be adjusted to suit the severity of snoring, rather than being a 'one size fits all' type of appliance."
Until August 13th, 2012 you can use the coupon code SAVE20 to save 20% off your order.
VitalSleep is a revolutionary snoring solution with three goals in mind. One, it had to help alleviate snoring, and two, it had be low-cost to produce. The third point was that any snoring device needed to be affordable too. That's why VitalSleep is available for a single payment that's under $50, opposed to an 'installment plan' that's popular with many stop snoring appliances. In addition, this FDA cleared, mandibular advancement device is fully customizable so it's beneficial for patients on a tight budget, or those with no insurance.
"What's great about this device is the affordability factor," says Hernandez. "Too often couples suffer with snoring because the remedy is too expensive or they try over the counter solutions that don't provide any real relief. With VitalSleep though, it can be adjusted to suit the severity of snoring."
So how does VitalSleep work?
It functions by opening the mouth and positioning the lower jaw forward, which improves airflow because the person's tongue is no longer blocking their air passage. This is why nose strips and spray anti-snoring solutions often don't work because they do not address the cause of snoring.
"I've seen ads for similar anti-snoring product that are made of a pliable material that molds to the shape of the mouth," Hernandez said. "However, what makes this device unique is that it can also be adjusted to suit the level of snoring, instead of being a 'one size fits all' kind of appliance that are being made by other companies.
This mandibular advancement device alleviates snoring by opening the mouth, positioning the lower jaw forward and allowing more air to flow freely. That pressure on the back of the throat is what creates snoring. Again, since this appliance can be adjusted, the wearer can modify how far forward the lower jaw sits. Quite a few cost effective snoring devices lack this important feature, which makes this stop snoring solution more comfortable and effective to use.
"VitalSleep doesn't benefit just patients," Hernandez said. "Loved ones of patients get better rest too if they're not awaken all night long. Plus, we've discovered that healthcare providers are seeing the benefit too. Some patients who can't afford $3,000 on an anti-snoring mouthpiece often go untreated. Visit http://www.vitalsleep.com to learn more.