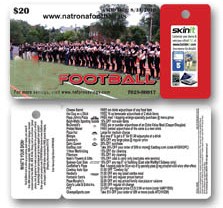 Our fundraising cards are perfect for people who want to give back to the local community and help people who really need it.
(PRWEB) July 31, 2012
The company is offering ten percent off on all its fundraising card services using promo code, fundsummersale. A must for merchants and charitable institutions, these fundraising cards are proven profitable venture tools for schools, churches, charities, groups and organizations.
CardPrinting.us offers a wide range of reasonably priced fundraising cards with one-year validity. All cards come with the option of 1 to 3 key tags attached to them.
Apart from being affordable, CardPrinting.us offers free design tips and ideas to come up with tailor-made and truly unique fundraising cards. Their friendly and knowledgeable staff is on hand to help clients come up with quality fundraising programs and peripherals. In addition, a team of in-house designers give free artwork evaluation and design assistance to all clients.
Experience proves that fundraising cards made with laminated plastic are more durable than traditional paper cards. As a result, these cards can be used repeatedly for other similar fundraising events. They also spell out more profits with less of the hassle involved in repetitive card printing. Cards can come in any shape or size suited to the clients' specifications and event needs.
Fundraising cards are not only a great way to support local charitable events; they are also effective tools to increase business, raise money and create brand awareness. This was exactly what entrepreneur Charice O'Neal, discovered when she tried out the company's fundraising cards.
"I organized a charity event for the local church last month. It benefited homeless women and children as well as victims of domestic violence. I started giving out fundraising cards as a way to get more support from our local community. It did help raise a lot of money and of course, benefited those who are in need. It's a terrific idea and I'm glad I have alternative ways to get people more involved in such causes", she said.
CardPrinting.us' own marketing manager, Laura Brentley expressed her own excitement over the company's newest line of plastic cards. In a statement, Brentley said, "CardPrinting.us has always been into participating in conscientious events and causes, our fundraising cards are perfect for people who want to give back to the local community and help people who really need it."
These cards can also be sold to friends, family, and neighbors and they too, can take advantage of fabulous deals, discounts, offers, and specials from participating merchants. The company has everything anyone needs for a successful fundraising card program. From superb color printing to faster delivery, an organization can definitely earn more money and save time with Cardprinting.us fundraising cards. Price starts at $0.59 per card on standard credit card size.
Further information on the CardPrinting.us products and services can be had by emailing info(at)cardprinting(dot)us, or calling toll-free at +1-866-344-2300 for USA and Canada, and +1-845-426-2300 for international calls. Learn more about the many high-quality plastic and paper card products such as custom ID badges, key tags, card holders, etc. at http://www.cardprinting.us/.