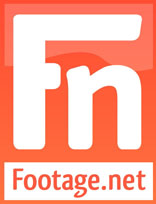 Footage.net has grown rapidly over the last several years to become one of the world's largest and most comprehensive online stock footage databases, and a powerful production resource
New York, NY (PRWEB) July 31, 2012
Footage.net announced today that over 1.5 million clips from some of the world's top footage companies are now available for screening on its newly redesigned stock footage search site. Footage.net is the world's premier resource for stock footage research, providing instant access to millions of screening clips and text records. While the exact number of clips on the site is hard to pin down due to routine partner updates, Footage.net estimates that the total number of clips on the platform on any given day is between 1.6 million and 1.8 million.
"Footage.net users rely on us to bring them the best content the footage industry has to offer," said David Seevers, Footage.net's Chief Marketing Officer. "By partnering with some of the world's most prestigious footage companies, including Getty Images, FootageBank, Framepool, and CNN ImageSource, Footage.net has grown rapidly over the last several years to become one of the world's largest and most comprehensive online stock footage databases, and a powerful production resource."
Footage.net's proprietary footage search engine returns results by relevance from 40 major footage collections, allowing creative professionals to compare content across multiple collections, find the best footage and save time. By providing both a growing collection of online screening clips as well as millions of detailed text records, Footage.net offers footage researchers maximum flexibility in how they discover and obtain motion content.
The redesigned user interface and improved search capabilities provide researchers with the necessary tools to fully utilize its vast footage database, work with images, manage results and communicate with Footage.net's content partners. They also help Footage.net's content partners better present their stock footage collections to the global production community.
Footage.net is dedicated to helping creative professionals discover and access world-class footage. The huge number of screening clips now available on the platform enables Footage.net to deliver on its mission of bringing the world's best stock footage together in a single place, and giving creative professionals the tools they need to discover the perfect shot.
About Footage.net
Footage.net is the world's premier online footage search engine, providing creative professionals with the tools they need to discover and obtain the best motion content from the world's top footage companies quickly and easily from a single site. At Footage.net, researchers can search over 40 footage collections simultaneously, view over 1.5 million clips, communicate instantly with our content partners and download over 250,000 premium stock footage clips.