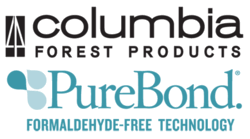 Greensboro, NC (PRWEB) July 31, 2012
This past week, volunteers from across the state of North Carolina joined the Habitat for Humanity of Orange County team to install the 100th PureBond® kitchen through the Cabinets for Humanity program.
Cabinets for Humanity is a unique partnership between Habitat for Humanity of Greater Greensboro and Columbia Forest Products, America's largest manufacturer of hardwood plywood and hardwood veneer. Starting in 2009, Columbia Forest Products has worked closely with Habitat to develop a line of high-quality, durable, formaldehyde-free PureBond cabinetry that's a cost-effective and healthier option for homeowners. The company and its employees have donated time, materials and labor to this program, which took on the name "Cabinets for Humanity."
Since that time, the program has grown and several affiliates now participate. The Orange County affiliate was an early adopter and avid supporter of the program, which makes this week's celebration even more special.
"This generous gift by Columbia Forest Products has boosted our green building efforts and gets more volunteers involved at our construction sites," said Winston McGregor, President and Executive Director of Habitat Greensboro. "Our partners in Orange County have led the way, and we're delighted that so many other affiliates see the benefits of purchasing cabinets that are sustainably-harvested and manufactured right here in North Carolina, with non-toxic materials like PureBond."
"The health of our homeowners is a real priority for us," said McGregor, "and these PureBond cabinets assure us that we're not introducing things that can contribute to poor indoor air quality."
Brad Thompson, CEO of Columbia Forest Products, was inspired to start the program as a result of his family's experiences of volunteering with Habitat Greensboro. "We were looking for ways to give back to the community and Habitat was a natural fit," Thompson said.
Columbia's formaldehyde-free PureBond® technology was a major breakthrough in the engineered wood panel market. Developed by Columbia Forest Products in conjunction with scientists at Oregon State University, the first PureBond® hardwood plywood panels were produced in 2005. Since then, more than 50 million have been shipped. PureBond® formaldehyde-free technology continues to be a market differentiator for woodshops that cater to a health-conscious clientele.
About Columbia Forest Products
Established in 1957, Columbia Forest Products is America's largest manufacturer of decorative hardwood plywood and hardwood veneer. An employee-owned company, it operates facilities throughout North America. It is a leader in sustainable forestry, as well as in developing innovative and environmentally friendly technologies and products for healthy indoor living.
Columbia Forest Products has provided fine decorative hardwood plywood veneer panels to North American fabricators for 55 years. The company is committed to offering the industry's widest product selection, manufactured in efficient, technologically advanced mills, and backed by exceptional service and product support.
More information on PureBond® products from Columbia can be found at http://PureBondPlywood.com.
About Habitat for Humanity of Greater Greensboro
Habitat Greensboro brings together people of all faiths to build quality, affordable homes and thriving neighborhoods where families can build better lives. Visit http://HabitatGreensboro.org for latest news and updates.