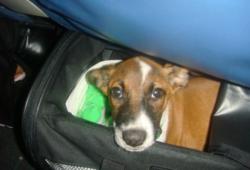 The dogs are obviously thin and hungry, tourists like us feel sorry for them and feed them for a few days, but then we leave and they are right back where they were and can only hope that other kind people will help them to survive.
Wilton, CT (PRWEB) July 31, 2012
Clear Conscience Pet is a family-owned pet nutrition company, known as the inventor and manufacturer of SuperGravy Holistic Pet Gravy Mix, patent pending OSV Treats and Chews such as Lamb Airy Bites and Bison Tendy Chewz, and Cruncherz Organic Gluten and Grain Free Dog Treats. With an emphasis on responsible, sustainable, and humane sourcing, the company is award winning in the pet food and treat industry. But the latest news from Clear Conscience is not about a new product, award, or other business milestone.
Anthony Bennie, the company's Co-Founder and President, has been not only an industry entrepreneur and nutritionist but has also published dozens of articles on all aspects of companion animal nutrition and the pet food industry. He has just published a personal account of rescuing a Potcake puppy from Turks and Caicos in the Caribbean. The article appears in the August/September issue of Animal Wellness magazine, which is distributed on newsstands and in specialty pet and natural food stores throughout North America. The magazine is published by Redstone Media Group, headquartered in Ontario, Canada.
Potcakes are the native dogs of the Turks and Bahamas Islands, and are so named because of the history of feeding semi-feral dogs hard burnt rice and peas from the bottom of the stewpot. These chunks of food are called Potcakes, and over time the name of the food became the name for the breed. Today's Potcake dogs have developed over hundreds of years in the islands from a mixture of many breeds.
"The story of how our family wound up in the unlikely situation of learning about Potcakes and then adopting one is very personal, but it also is a universal story of adoption and rescue with an unusual twist," said Anthony. "Just as dogs everywhere wind up in tough circumstances and need a helping human hand, these island dogs find themselves caught between the growth of tourism and population in the islands and the hard reality that far too many are homeless and therefore susceptible to illness, malnutrition, and sadly even cruelty." Through no fault of their own, Potcakes are seen as a nuisance by locals and resort operators. "Pet loving tourists feel sorry for the dogs and give the resort operators a hard time when they see the dogs hanging around," said Amanda Bennie, Clear Conscience pet's Co-Founder. "The dogs are obviously thin and hungry, tourists like us feel sorry for them and feed them for a few days, but then we leave and they are right back where they were and can only hope that other kind people will help them to survive."
The article details how the couple learned the truth about Potcakes and how they can really be helped, through the organized rescue efforts of The Potcake Foundation and their affiliates. The end result was that they rescued a 12 week old female puppy and named her Taylor Bay, after one of the beautiful areas on the island.
Another aspect of the Potcake Rescue story is that there are actually shortages of readily adoptable mixed breed dogs in U.S. shelters, since the very widespread practice of spay and neuter has limited the "accidental" mix of breeds like Labs, Goldens, and other family-friendly breeds. This is one of the reasons for the surge in demand for "designer dogs" such as Labradoodles, Goldendoodles, Pugles, and others. These dogs can sell for very high prices but families are buying them to try to get the "perfect dog."
This shortage has led to rescue and adoption organizations such as the very well-known North Shore Animal League of Long Island, New York, partnering with Potcake rescue groups in the Caribbean. Many Potcakes are now finding a "new leash on life" through humane transport programs in which returning visitors "carry-on" a puppy onboard their flights home; this gives them an opportunity to find a forever home through these organizations. These puppies have an excellent history of adapting to life with American and Canadian family life and those who have adopted them are huge fans and advocates for Potcakes.
"It's a cross cultural exchange as well," said Anthony Bennie. "When we learned about the Potcakes while visiting, we honestly started out with some prejudices and concerns about adopting a dog from a foreign country with no health history or guarantee of temperament." But they were were reassured by the dedicated people at Potcake Rescue in Providenciales, Turks and Caicos. A certified history of all required immunizations is provided and once a puppy is selected, they can be transported home in a small carrier with this paperwork and the payment of a modest fee (ususally$100 US) to the airline. Potcake rescue accepts donations but does not charge any adoption fee.
"We are so pleased that Taylor Bay's story is now in the public eye, and that people here in North America will learn more about these sweet and wonderful dogs," said Amanda Bennie. We hope that it will inspire other travelers to consider adopting or transporting a dog, or inspire some much needed donations to the Potcake Foundation."
# # #
About Clear Conscience Pet®, LLC
Clear Conscience Pet® is the first pet nutrition company founded with the mission of using humanely sourced meat ingredients from sustainable family farms to make exceptionally healthy treats, chews, and food enhancing gravies. The company's current products include the patent pending OSV™ treat and chew line, SuperGravy®, the first Holistic Instant Dry Gravy Mix and Nutrient Enhancer for pets, and Cruncherz™ Gluten & Grain-Free Bakery Treats. The company is based in Wilton, Connecticut and is family-owned by Founders Anthony Bennie and Amanda Malone Bennie. They currently market their pet food products to pet supply retailers, veterinarians, health food stores, and other pet specialty outlets.
Web address: http://www.clearconsciencepet.com
Facebook page: http://www.facebook.com/Clear.Conscience.Pet.LLC
Video interviews with Founder, Anthony Bennie: visit:
http://www.clearconsciencepet.com/ccp-tv