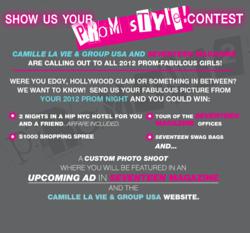 "We're excited to work with Seventeen for the second annual Show Us Your Prom Style Contest."
Secaucus, NJ (PRWEB) July 31, 2012
Camille La Vie & Group USA and Seventeen Magazine have partnered to make one lucky girl's prom even more memorable with the 'Show Us Your Prom Style' contest. From July 31st 2012 to October 15th 2012, girls who attended prom during the 2012 season can submit their best prom photo for the chance to be featured in an upcoming Camille La Vie & Group USA advertisement in Seventeen and appear on the Camille La Vie & Group USA website, plus a trip for two to New York City for two nights, a $1,000 shopping spree, a tour of the Seventeen offices and a Seventeen Swag Bag.
The winner will be treated to a photo shoot with professional hair and makeup artists, as well as a fashion and accessories stylist who will help the winner look prom-fabulous, head-to-toe. To enter, visit the Camille La Vie Facebook fan page, click on the tab titled, "WIN BIG WITH 17" and LIKE it; from there, visitors will be taken to the contest entry page.
President of Camille La Vie & Group USA, Denise Viotti, expressed her enthusiasm for this collaboration with Seventeen saying, "We're excited to work with Seventeen for the second annual Show Us Your Prom Style Contest. Last year was such a huge success and we're happy to be offering another lucky girl the chance to win a remarkable experience."
Participants for this contest must be between the ages of 15 and 21 years old and be legal residents of the 50 United States, Puerto Rico and District of Columbia.
About Camille La Vie & Group USA
Camille La Vie & Group USA is a true fashionista's shopping hot spot for prom dresses, homecoming dresses, wedding dresses, social separates, day into evening dress styles, bridal, formal accessories, jewelry and shoes. They offer one of the most extensive and stylish collections of special occasion dresses that can be found under one fabulous roof! Since its inception in 1985, the company's motto, "to provide customers with the latest dress fashions at an affordable price," has made them a leading retailer in virtually all categories. To date, Camille La Vie & Group USA has expanded to a total of 24 stores nationwide.
In select Camille La Vie & Group USA stores, customers will discover a collection of bridal apparel including wedding dresses, bridesmaid dresses, flower girl dresses, mother of the bride dresses and guest of wedding dresses. Camille La Vie & Group USA also provides bridal alteration and consulting services. So whether your style is classic and elegant or modern and chic, Camille La Vie & Group USA will outfit stylish women of all types without breaking their bank!
If you're in a committed search to score a certain dress style, Camille La Vie & Group USA is your one-stop source for all things pretty – from on-trend high to low dresses, mirror stone and chunky beaded bodices, bright and bold hues, florals and animal prints, handkerchief, godet and trumpet hemlines, subtle detailing or all over sequins, one shoulder, crisscross back or cut out silhouettes to cascading ruffles and fun, frilly poof a-line skirts in tulle, Camille La Vie & Group USA's fashion styles are seemingly endless! And the options do not just stop there. Follow Camille La Vie on Twitter at @camillelavie
About Seventeen
Seventeen (http://www.seventeen.com) is the best-selling monthly teen magazine, reaching more than 13 million readers every month. In each issue, Seventeen reports on the latest in fashion, beauty, health and entertainment, as well as information and advice on the complex real-life issues that young women face every day. Readers can interact with the brand on the digital front, with the Seventeen Ultimate Fashion Flipbook iphone app as well as with the monthly edition of the magazine on the iPad. In addition to its U.S. flagship, Seventeen publishes 13 editions around the world. Seventeen is published by Hearst Magazines, one of the nation's largest diversified communications companies. With its acquisition of Lagardère SCA's 100 titles in 14 countries outside of France, Hearst Magazines now publishes more than 300 editions around the world, including 20 U.S. titles. Hearst Magazines is a leading publisher of monthly magazines in the U.S. in terms of total circulation and reaches 82 million adults (Spring 2012 MRI). Follow Seventeen on Twitter at @seventeenmag.