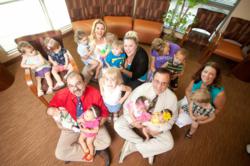 Knowledge is power, and every one of these webinars has taught me something I didn't know.
Las Vegas, NV (PRWEB) July 31, 2012
Sher Fertility Institute has announced the dates and topics for their next two live fertility education webinars. The live simulcast seminars will feature Sher Fertility doctors discussing several relevant topics related to infertility: Polycystic Ovarian Syndrome (PCOS) and IVF Embryo Transfer.
The first webinar will be broadcast on Tuesday, August 7th at 5:30PM Pacific Daylight time and will feature Geoffrey Sher, MD presenting on the topic of IVF Embryo Transfer. Dr. Sher will discuss the timing of the embryo transfer, methods of selecting the best embryos for transfer, how many to transfer, and an overview of frozen embryo transfer protocols.
The second webinar is scheduled for Tuesday, August 21st at 5:30PM Pacific Daylight time. It will be hosted by Jeffrey D. Fisch, MD and will cover Polycystic Ovary Syndrome (PCOS), a common cause of fertility problems among women. Dr. Fisch will discuss the symptoms, diagnosis and treatment of PCOS from a reproductive standpoint. He will also address Ovarian Hyperstimulation Syndrome (OHSS), a condition that occurs frequently in women with PCOS who are undergoing In Vitro Fertilization (IVF).
The webinars are part of an ongoing series of fertility education events organized and hosted by Sher Fertility Institute physicians. The format of the webinars utilizes streaming video technology that allows the physicians to broadcast a live presentation via the internet. Following each presentation, viewers can submit their questions to the doctors via a text/chat interface, and the doctors answer each question via webcam.
"Knowledge is power – especially when it comes to infertility," said Dina Sorrentino, who has viewed all but one of the webinars. "Every one of these webinars has taught me something that I didn't know."
Past webinar topics have included Unexplained IVF Failure, Recurrent Miscarriage, and Financial Considerations in Fertility Treatment.
"We have received very positive feedback about this live webinar format," said Dr. Sher, founder and Executive Medical Director of Sher Fertility Institute. "The interactive nature of the webinars allows viewers to ask questions specific to their situation, and receive answers from us that directly address their questions in real time. It is almost like being in the same room with them."
Each webinar is recorded and then archived, making them available at any time to viewers who didn't see them live, or to those who wish to view them again. All of the webinars can be found on the Sher Fertility Webinar Archive
About Sher Fertility Institute
Sher Fertility Institute is a national network of fertility clinics specializing in leading-edge technology, personalized treatment, and compassionate reproductive care. Institute Founder Dr. Geoffrey Sher established the first private In Vitro Fertilization (IVF) program in the United States and is a recognized authority and pioneer in the field of reproductive medicine. Dr. Sher and his colleagues have been influential in the development of dozens of important breakthroughs in the treatment of infertility and reproduction. More info is available on the Sher Institute website at http://www.haveababy.com.