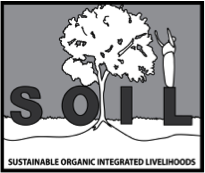 SOIL is proud of the success of the Sustainable Sanitation Conference and grateful to everyone who came together to discuss how we can work together to prevent sanitation-related illness and death in Haiti.
Port-au-Prince, Haiti (PRWEB) July 31, 2012
SOIL (Sustainable Organic Integrated Livelihoods), a leader in ecological sanitation, is proud to release a public summary, full presentations and key takeaways from Haiti's first ever Sustainable Sanitation conference, hosted by SOIL with support from UNICEF-Haiti, Sanco Enterprises and Bochika, was attended by over 150 individuals representing 55 groups, organizations and government ministries. Numerous local, national and international organizations, as well as several independent consultants contributed to the conference, presenting sanitation projects, participating in panel discussions, and actively engaging in dialogue. Summaries and full presentations from the conference are available on SOIL's Website: http://bit.ly/HaitiSaniConf12 and photos on SOIL's Flikr: http://bit.ly/HaitiSaniConfPhotos.
"SOIL has been providing ecological and sustainable sanitation solutions in Haiti for nearly 7 years and we've seen first hand the opportunities and challenges in the sector. We are very proud of the success of the Sustainable Sanitation Conference and grateful to all of our partners and supporters, the Ritz Kinam Hotel II, and all of the organizations and individuals who came together to discuss how we can work together to prevent sanitation-related illness and death in Haiti," said Dr. Sasha Kramer, SOIL's Executive Director. "The conference's key takeaways reveal the very real potential for low-cost environmental solutions to Haiti's sanitation problem, as well as a need for increased institutional support, information sharing, research and development, sustainable financial models, and community participation."
These key takeaways that highlight common ideas, initiatives and opportunities for organizations to collaborate further and to provide effective, efficient and sustainable sanitation for people in Haiti are available on SOIL's website: http://bit.ly/HaitiSaniConf12-2.
In Haiti, only one out of ten people in rural areas and one of four in urban areas have access to improved sanitation. Without access to toilets, untreated waste flushes or leaches into rivers and waterways where they mix with water used for drinking or bathing. This lack of access to sanitation is a key reason cholera quickly turned into an epidemic after it first appeared in late 2010. The epidemic has thus far claimed nearly 7,000 lives. Communities around Haiti have set an internationally recognized precedent with low-cost, locally-built sustainable sanitation solutions. Pledge your support for sustainable sanitation in Haiti and follow SOIL on Facebook or Twitter- @SOILHaiti.
About SOIL:
SOIL is a US 501c3 grassroots organization working in Haiti to facilitate the community-identified priority of ecological sanitation (EcoSan), where human wastes are converted into valuable fertilizer. EcoSan simultaneously tackles some of Haiti's toughest challenges – providing improved sanitation to people who would otherwise have no access to a toilet and producing rich organic compost critical for agriculture and reforestation. Since building Haiti's first EcoSan toilet in 2006, SOIL has gone on to become one of the country's largest sanitation providers. Visit http://www.oursoil.org to learn more.
This Press Release was issued pro-bono by Bochika, http://www.bochika.org, a Miami-based 501c3 organization, as part of Bochika's mission to support and empower grassroots organizations engaged in participatory sustainable economic, agricultural and social development programs that benefit marginalized and impoverished communities in Latin America and the Caribbean.