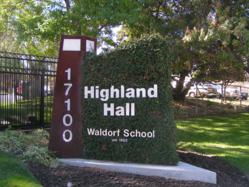 The generosity of the Newman's Own Foundation supports our mission to make Waldorf education accessible to a greater number of families
Northridge, CA (PRWEB) July 31, 2012
Highland Hall Waldorf School is pleased to announce that it has received a major grant from Newman's Own Foundation in support of its tuition assistance program.
"We've always maintained a generous tuition assistance policy because we believe it is healthy to preserve socio-economic diversity at the school," says Bari Borsky, Highland Hall's director of community development. "The generosity of the Newman's Own Foundation supports our mission to make Waldorf education accessible to a greater number of families, and to retain an economically diverse student body."
Highland Hall provides the Waldorf curriculum from pre-k through 12th grade, and also offers "Parent and Child" classes for toddlers. This year the school enhanced their tuition support by launching the Highland Hall Merit and Need Scholarship, awarded to outstanding students in the community whose families find it difficult to meet tuition costs.
"For the first time, and in keeping with practices at other private and Waldorf schools, we will be offering scholarships based on both financial need and merit to students in grades 5 and up," says Lynn Kern, Highland Hall's administrative director. "These students are ones who make a significant contribution to their class in academics, sports, art, music or citizenship. They demonstrate a strong interest in Waldorf education and their families are in good standing with the school but face financial challenges."
When Rudolf Steiner opened the first Waldorf school in 1919 for the children of the Waldorf Astoria Cigarette Factory in Stuttgart, Germany, there were no tuition costs to parents. Steiner founded it with the agreement that the factory owner, Emil Molt, would fund the project, but allow Steiner to devise the curriculum and manage the school. His dream was to create a school serving students all the way up through twelfth grade, where graduates would be creative and critical thinkers capable of shaping their world for the better.
The dream was realized when Molt purchased a restaurant, remodeled the building, and fully funded the school. Additionally, the first Waldorf teachers volunteered their time in support of what they viewed as a ground-breaking experiment, allowing Waldorf education to be tuition-free.
Today there are nearly 1000 Waldorf schools worldwide. And while Steiner's education vision is being fulfilled globally, with new schools opening each year in locations as diverse as the Middle East and China, the cost of running those schools has increased exponentially.
Unlike some of their European counterparts, Waldorf schools in the United States do not enjoy the benefit of government funding. They rely completely on tuition, generous donors from their own communities, and corporate and family grants to run their schools. In our current economic environment many parents are finding it more and more challenging to pursue the dream of giving their children the unique benefits of Waldorf education.
Borsky continues, "Highland Hall is grateful to be able to expand our abilities to meet the financial challenges faced by our families thanks to the Newman's Own Foundation, and we are very pleased to launch our new Scholarship Program."
Highland Hall Waldorf School is located in Northridge, California. Founded in 1955, it is the oldest Waldorf school in the western United States and offers an independent alternative to public and other private schools, providing the Waldorf Curriculum from Early Childhood through High School graduation.