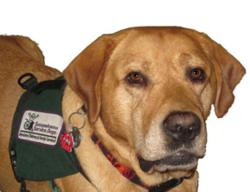 Harrisburg, PA (PRWEB) July 31, 2012
Susquehanna Service Dogs (SSD) is proud to announce that it has received a $9,975 Quality of Life grant from the Christopher & Dana Reeve Foundation and a $4,000 grant from the Planet Dog Foundation. The funds will help to provide the items needed by service dogs during their vital first months of life, including birthing supplies, veterinary visits, ophthalmologist visits, early socialization classes, and more.
The dogs will go on to support people with mobility, hearing, and psychiatric disabilities through SSD, a program that raises, trains, and places service dogs. Since its inception in 1993, SSD has placed 204 service dogs in Pennsylvania and the surrounding states. Each SSD dog is professionally trained to meet the individual needs of their partner and completes tasks such as opening doors, picking up dropped objects, assisting with daily dressing, or pulling a manual wheelchair. The program is also fully accredited by Assistance Dogs International.
The Reeve Foundation award was one of 69 grants totaling almost $425,000 awarded by the Foundation to nonprofit organizations nationwide that aid in providing more opportunities, access, and daily quality of life for individuals living with paralysis, their families, and caregivers. Created by the late Dana Reeve, the program has awarded 2,055 grants totaling over $15.6 million since 1999.
"The Reeve Foundation believes that each of the nearly six million Americans living with paralysis deserves access to the best programs and services available. The Quality of Life Grants Program supports other nonprofit organizations that not only believe in that same independence, but achieve great success in carrying out their programs' missions," said Peter T. Wilderotter, president and CEO of the Christopher & Dana Reeve Foundation. "We are honored to recognize these organizations which empower those affected by paralysis."
The Planet Dog Foundation award was one of eight awards that fund programs that train, place and support dogs helping people in need. Funding is allocated nationwide to promote and financially support service-oriented canine programs such as assistance dogs, therapy dogs, search and rescue programs or police, fire and military dogs.
"There is a great need for funding to support service dogs and the amazing ways they are helping children and adults across the country," says Kristen Smith, the Executive Director of the Planet Dog Foundation. "We received high caliber proposals from over 100 organizations and although we cannot fund all of them, we are proud to be able to donate $25,000 in support of eight exceptional programs," adds Smith.
"Susquehanna Service Dogs is honored to receive grants from not one, but two, renowned foundations for our work providing service dogs to people with disabilities," said Nancy Fierer, program director. "We are grateful to both the Christopher and Dana Reeve Foundation and the Planet Dog Foundation for their support."
For more information on SSD, call (717) 599-5920 or visit http://www.keystonehumanservices.org/ssd.
About the Reeve Foundation
The Christopher & Dana Reeve Foundation is dedicated to curing spinal cord injury by funding innovative research, and improving the quality of life for people living with paralysis through grants, information and advocacy. For more information, and to review the entire list of Quality of Life grant recipients, please visit our website at http://www.ChristopherReeve.org or call 800-225-0292.
The Christopher & Dana Reeve Foundation Quality of Life grants program was conceived by the late Dana Reeve to address the myriad needs of children and adults with paralysis and other mobility impairments and their families. Grants support critical life-enhancing and life-changing initiatives that improve physical and emotional health and increase independence. Funded projects offer a diversity of services and approaches: improving access; providing education and job training; sponsoring organized sporting activities; and much more. Quality of Life grants are funded through a cooperative agreement with the Centers for Disease Control and Prevention (Award #1U59DD000838).
About the Planet Dog Foundation
The Planet Dog Foundation is the philanthropic arm of Planet Dog, the globally recognized designer and developer of innovative, high-quality and award-winning dog products that enhance the lifestyle people share with their canine companions. Planet Dog is proud to donate 2% of all purchases of Planet Dog products to PDF. PDF provides cash grants to programs throughout the country that train, place and support dogs helping people in need. Since 2006, PDF has contributed over $875,000 dollars in cash and in-kind product donations to exemplary canine service programs.
Christopher & Dana Reeve Foundation Contact
Janelle LoBello
Christopher & Dana Reeve Foundation
800-225-0292
media(at)ChristopherReeve(dot)org
Planet Dog Foundation Contact
Katie LeBel
Planet Friendly Public Relations
207-563-7695
katie(at)planetfriendlypr(dot)com
SUSQUEHANNA SERVICE DOGS
OPENING DOORS, CHANGING LIVES
The official registration and financial information for Keystone Children & Family Services an agency of Keystone Service Systems and Keystone Partnership may be obtained from the Pennsylvania Department of State by calling toll-free, within Pennsylvania, 1-800-732-0999. Registration does not imply endorsement.