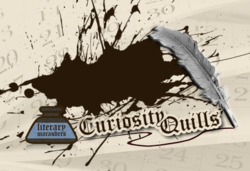 [Young adult] readers span the ages from pre-teen to well into the 'over-the-hill' stages in life. It's one of the most unique readerships I've ever seen, and I love being a part of it.
New York, NY (PRWEB) July 31, 2012
Innovative publishing house, Curiosity Quills Press, has been sharing its unique flavor of science fiction & fantasy offerings with the reading public since late 2011; Now, the "literary marauders" are venturing deeper into the fastest-growing consumer vertical - the young adult crowd.
With a resurgence of interest from readers between 13 and 21 - and older readers who simply feel young at heart - delivering real, relateable, protagonists has never been more important. Curiosity Quills Press hopes to respond to this need by releasing several new titles - aimed at boys, girls, or both - throughout the second half of 2012, and well into 2013.
"The young adult market has a voracious appetite for novels, especially in the paranormal/fantasy realm," explains CQ Operations Manager, Krystal Wade (author of urban fantasy hit, Wilde's Fire and Wilde's Army). "These readers span the ages from pre-teen to well into the 'over-the-hill' stages in life. It's one of the most unique readerships I've ever seen, and I love being a part of it."
Among the upcoming titles, fantasy author VJ Chambers will be breaking out a new male YA property of her own in a paranormal adventure, Tit for Tot, scheduled to launch on September 15, 2012. When Russ's girlfriend leaves her newborn child in a dumpster on the night of their prom, the situation quick goes from bad to worse when he realizes that not only has she cheated on him, but the baby has been swapped for a cigar-smoking, trash-talking Faerie changeling. To save an innocent life, Russ will face ancient faeries with razor-like teeth, wrestle snarling skeleton dogs, and, maybe worst of all, track down every guy his girlfriend was sleeping with last year in the hopes of finding the baby's real father.
CQ mainstay Michael Panush (author of steampunk adventure romp, Dinosaur Jazz) brings another taste of his so-called "zombie noir" style of urban fantasy to male consumers - a somewhat underrepresented category of YA reader that the publisher hopes to remedy. The third volume of his Stein & Candle Detective Agency series (Red Reunion) is scheduled for print and digital release on September 23, 2012, and will see the selfsame duo facing down demons from Japanese mythology in the Tokyo underworld, disciplining Devil-worshipping high school kids, tracking down an inhuman lounge singer - and more.
Rounding off this small sample of upcoming works, Krystal Wade's own Wilde's Meadow will be completing the Darkness Falls trilogy with a bang, as Katriona Wilde's fantastic journey to save Encardia comes full circle. Armed with hope, very little knowledge of who she is, and a strange new gift from her mother, Katriona ventures into the Darkness with her friends and family - a small army to defeat a fallen god. Wilde's Meadow is scheduled for print and digital release on November 5, 2012.
Chief Operations Officer, Lisa Gus, has this to say about the YA catalogue expansion: "If there's ever a constant when it comes to the diverse youth of today - it's a love for reading, whether to escape into another world, to feel stronger through perspective, or just to while away the hours getting lost in a magical universe of possibilities. Needless to say, the Curiosity Quills Press team is excited to be a part of these developments, and will be steaming ahead in preparation for oodles of new book releases!"
#####
About Curiosity Quills Press:
Curiosity Quills Press (http://curiosityquills.com), launched in 2011 by writers, for writers, out of a common frustration with the state of publishing today. Instead of relying on readers to sift through the so-called "Amazon slush-pile," CQ presents a uniformly top-notch level of quality, tastefully curated, hard-hitting storylines, and memorable characters readers won't forget amidst their Kindle downloading sprees.
We know it's hard to stand out from the crowd when it's millions large, but Curiosity Quills Press helps level the playing field through its members' innovative social media approach, a transparent culture, and a deeply passionate team.