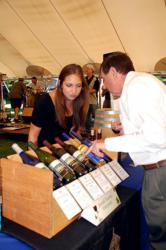 "Vintage & Vine 2012 offers guests the opportunity to become a part of the story of Puddle Dock," said Lawrence J. Yerdon, President and CEO of Strawbery Banke Museum.
Portsmouth NH (PRWEB) July 31, 2012
Strawbery Banke Museum, in partnership with the New Hampshire Liquor & Wine Outlets, hosts its annual Vintage & Vine wine festival presenting fine wines and gourmet foods in historic style across the historic houses and heritage landscapes of the Museum's scenic Portsmouth waterfront site on Saturday, September 8, 2012.
Featuring fine wines from around the world and imaginative cuisine prepared by top Seacoast chefs, Vintage & Vine offers an international tasting tour of Strawbery Banke's historic houses and gardens on its 10-acre waterfront Portsmouth site, from 4:00 to 7:00 PM.
Grow. Green. Global is the theme for the wine tasting and sale, with the educational, environmental and heirloom aspects of the living history museum highlighted as visitors grow their understanding of 300+ years of life in the waterfront neighborhood known as Puddle Dock.
"Vintage & Vine 2012 offers guests the opportunity to become a part of the story of Puddle Dock," said Lawrence J. Yerdon, President and CEO of Strawbery Banke Museum. "Guests sample a selection of hundreds of fine wines and gourmet items created by the Seacoast's finest chefs, while exploring the vintage homes and heirloom gardens of Portsmouth's past. Perhaps best of all, thanks to the efforts of the Museum's trustees and community volunteers in producing this event, Vintage & Vine supports the museum's mission of being a sustainable place to gather and to learn."
The proceeds from the fundraising event support the nonprofit Museum's preservation and educational efforts including the History Within Reach program, which brings more than 10,000 schoolchildren to the museum each year.
The Vintage & Vine Grand Tasting takes place across the museum's grounds, with 30 top local chefs paired with wine brokers strategically located among 15 vintage houses and gardens from 4:00 to 7:00 PM. Wine experts introduce guests to vintage wines paired with special hors d'oeuvres in the VIP Tent in the Goodwin Garden during the VIP Reserve Tasting, from 4:00 to 5:30 PM.
Five Star Chefs from the region's best restaurants take center stage at grilling stations on the main lawn, from 5:30 to 7:00 PM. The main tent features an artisanal cheese station, an auction of wines by the bottle, a silent auction and live music by local band Rhythm Method. A festive bonfire completes the scene.
New this year, and underscoring the global element of the festival, an Italian Wine Dinner hosted by Mary Ann Esposito, creator and host of the nationally televised PBS series, Ciao Italia with Mary Ann Esposito™, follows the Grand Tasting from 7:30 -9:30 PM. Catered by The White Apron and sponsored by Banfi Wines in the Goodwin Garden, the finale showcases Italian fare based on Chef Esposito's new book, Ciao Italia Family Classics. Italian wine expert, Guy Esposito, Ph.D., who has shared his enthusiasm for Italian regional wines with groups ranging from classes at Boston University to travelers in Italy introduces the Banfi Wines selected for each course.
The focus on sustainability is emphasized throughout the walk-around wine tasting. "Vintage & Vine 2012 features just-gathered, seasonal items from local farmers and fishermen, prepared by inspired Seacoast chefs," said John Forti, Strawbery Banke's curator of historic landscapes. "We are also committed to making Vintage & Vine a 'zero waste event' by using compostable products and recycling all of the wine bottles from the event."
All of the wines at Vintage & Vine can be ordered at the event. Guests receive a 15 percent discount when purchasing any six or more bottles. Payment is made when wines are picked up, at any New Hampshire Liquor & Wine Outlet Store.
Vintage & Vine Partners: New Hampshire Liquor and Wine Outlets, Foster's Daily Democrat; Stakeholder Sponsors: Planet Fitness, Waste Management; Subscriber Sponsors: Demeters Steakhouse, Exeter Trust Company, Wendell & Associates, Wentworth by the Sea Hotel and Spa, Benefactor Sponsors: Aqua Communications, BayRing Communications, BNY Mellon Wealth Management, Federal Savings Bank, Hilton Garden Inn Portsmouth Downtown, Homewood Suites by Hilton, The Mark Wentworth Home; McLane, Graf, Raulerson and Middleton; Northeast Credit Union, Optima Bank & Trust, Portsmouth Harbor Events and Conference Center, Residence Inn Marriott Portsmouth, R.M. Davis, Inc., Stonewall Kitchen, Sir Speedy Printing Center. In-Kind Sponsors: Banfi Wines, Catapult Seacoast, Ciao Italia, Cleary Cleaners, Coastal Home Magazine, Doris Rice Watercolors, Mary Ann Esposito, Natural Rocks Spring Water Ice Company, Regal Limousine Service, Rhythm Method, Taste of the Seacoast, The White Apron.
Tickets are now on sale at http://www.strawberybanke.org. Ticket prices: Grand Tasting Admission $40; VIP Reserve Admission plus Grand Tasting $75; and Italian Wine Dinner with Mary Ann Esposito & The White Apron $99 before August 1, 2012 ($125 after August 1). Designated driver tickets and Museum member discounts available. For more information, go to http://www.strawberybanke.org or call 603.433.1100. Tweet @ SBMVintageVine.