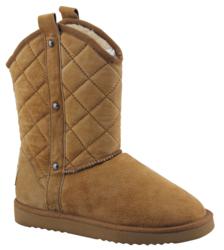 Ontario, CA (PRWEB) July 31, 2012
Los Angeles, CA- LAMO (pronounced Lah-Mow) Sheepskin Footwear launches a Fall/Winter collection of comfortable boots made with exceptional materials and details. Each pair of LAMO boots has a distinctive look that appeals to anyone's individual style. Moving back to its roots, LAMO has created a Fall/Winter collection designed for a multi-faceted lifestyle focused on maximum comfort.
The latest collection offers choices including: Brenda boots with genuine fur trim and decorative buttons, Gabrielle Moccasins in suede with fringe kiltie and contrast color toe box, Tongva Spirit made with Australia twin- faced shearling, feather embellishment and a luxurious sheepskin cuff and Fringe Wrap, an ankle boot in suede and wrap -around supple suede fringes. Besides from the boots, the brand also features Foot Candy, a sleek driving shoe in different colors with large rhinestones set on a large bow. Also on top of everyone's list is LAMO'S Classic collection. These must-haves include the Ladies Wrap, Ladies Bootie, Australian Bootie, Ladies Moccasin, Women's Rugged Boot, Sonic Boot and the Brittany Boot in variations of ankle, short and tall. Aside from its soft hand, the fine quality shearling balances the temperature and provides superior comfort while the wool fibers wick away any moisture.
Established in 1995, The LAMO Footwear collection in shades of blacks, browns and other neutral shades has since become a fashion staple for a continuously growing number of shoppers who appreciate the brand's craftsmanship and unique quality. CEO Jerry Breig says, "Our mission is to provide consistent value, quality and comfort through our entire line and to create ideal investment pieces. While other brands have resorted to lower quality synthetics as linings, we wanted to maintain the quality of our line by using natural sheepskin fiber, which is the hallmark of our brand." LAMO Classic Collection is available from $60 to $150 and Signature Collection starts at $110 to $200 and are available at department stores and specialty boutiques nationwide or online at http://www.lamosheepskin.com as well as internationally in Canada, Japan and Australia.