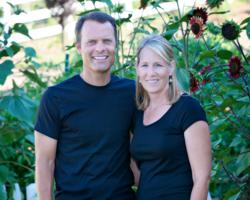 if we can do this farming thing, anyone can!
Murrieta, CA (PRWEB) July 31, 2012
Moving from suburban Orange County, CA, to the remote community of Wildomar in Southwest Riverside County, CA, has proven to be an organic transition for the Scharpen family. Rolling up their sleeves and firmly planting themselves into the lifestyle, the foursome has worked diligently on their 3.5-acre property, creating a sanctuary, which includes their ranch home and a plethora of sustainable projects. Their conservation practice began with the installation of a solar photovoltaic energy system, and has grown to encompass a state-of-the-art composting program, sophisticated drip irrigation and a water conservation system.
"I was thrilled to help them install a solar PV system at their ranch," said Kelly Smith, president of Ambassador Energy in neighboring Murrieta, CA. "I got to know the Scharpens early in their search for a home in the country. They were committed to making the trek, as I did years before, over the Santa Ana Mountains from busy Orange County. I understood how it was much more than just a geographic move. It represented a whole new way of life. Watching the family navigate their dream was amazing and inspiring. They started with gusto and just haven't stopped. No grass is growing under their feet. However, a lot of vegetables are! Now, just a few years later, the Scharpens are a full-blown farming family - a modern-day Green Acres."
Their sustainable endeavors have evolved over the years to where they are today, growing and producing flowers, fruits and vegetables for themselves and a local Community Supported Agriculture (CSA) program. "We are in love with the idea of 'farm to table'," said Scott Scharpen. "Our goal at Liberty Acres Organic Farm is to grow the finest, freshest organic produce and do it within a completely sustainable environment."
"Coming from a very corporate background," Scharpen continued, "I enjoy reflecting on the contrasts between our previous life and the one we live today. We are healthier, happier and eating better than I ever dreamed. We are passionate about sharing the benefits of growing organically and being responsible stewards of the land. One thing's for sure – if we can do this farming thing, anyone can! And that's part of the message. Grab some seed, stick it in the soil, water and feed it — and you'll be amazed what you and God can grow."
Visit Liberty Acres and experience the farming and conservation practices in person. Contact Scott and Carolyn Scharpen for a group tour.
About Liberty Acres Organic Farm
Liberty Acres is a small family farm located in Wildomar, California. We grow organic produce and flowers in our seasonal row crops, orchard, berry patch, vineyards and flower gardens. We are certified by the State of California to sell organic produce in Riverside, Orange, San Bernardino, and San Diego counties. We also hold a nursery stock license to sell organic vegetable and floral seedlings. We distribute to a local CSA program, farmer's markets, local restaurants and caterers.
About Ambassador Energy
Ambassador Energy [AE] has a trifecta business model, including Ambassador Energy College Solar Training, the Ambassador Energy Agency Program and Ambassador Energy EPC. On staff are NABCEP Certified PV Installers, NABCEP Certified PV Technical Sales professionals [Fulgham/Kelso] and multiple NABCEP EL graduates. AE Agencies are nationwide. Ambassador Energy EPC installs Solar PV systems throughout California.
See us on Facebook.