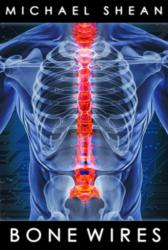 Bone Wires' interactive creation process was a shining example of serialization done with the readers in mind.
New York, NY (PRWEB) July 31, 2012
Indie publishing house Curiosity Quills Press is no stranger to trying out new strategies for helping authors reach a broader audience. Serializing several of its properties in the form of free weekly installments has long been one of the team's favorite - and when a serialization culminates in a fully-fledged print and digital release, the strategy truly comes full circle.
Case in point: Bone Wires, by Michael Shean (author of debut novel Shadow of a Dead Star), published by Curiosity Quills Press in paperback and digital formats in late July, 2012.
The dystopian cyberpunk detective noir painstainkingly crafted by Mr. Shean has been an evolving work in progress ever since its first free chapter appeared on the Curiosity Quills Press blog nearly a year ago, on November 3, 2011. CQ's first web serial, Bone Wires may be considered a niche product of sorts, but serialization not only changed the community's dynamic - it led to a stronger, better published product, improved by continuous feedback from readers as the book was being created as it serialized.
Now, Bone Wires is available in full to be enjoyed by readers everywhere.
CQ Chief Operations Officer, Lisa Gus, explains: "The serialized format harkens back to the days of Charles Dickens and earlier, but has been toyed with by the likes of Stephen King, Orson Scott Card, and Lawrence Watt-Evans, to name a few. It gives new readers a safe, commitment-free chance to dive into a story, test the waters, and tread deeper if it strikes their fancy. Bone Wires' interactive creation process was a shining example of serialization done with the readers in mind."
Bone Wires is available digitally for $3.99 on the Kindle and Nook. Paperback versions can be had for $12.99 on Amazon, Barnes & Noble, and other retailers. Free review copies are available via NetGalley.
Other Curiosity Quills Press serials slated for publication treatment include: Daughter of Glass, by Vicki Keire, The Kulture Vultures & the Plot to Steal the Universe, by William Vitka & Bill Vitka, Death by Chocolate, by Johanna Pitcairn, and the Stein & Candle Detective Agency series, by Michael Panush, now in the third title of his trilogy.
# # #
About Curiosity Quills Press:
Curiosity Quills Press launched in 2011 by writers, for writers, out of a common frustration with the state of publishing today. Instead of relying on readers to sift through the so-called "Amazon slush-pile," CQ presents a uniformly top-notch level of quality, tastefully curated, hard-hitting storylines, and memorable characters readers won't forget amidst their Kindle downloading sprees.
We know it's hard to stand out from the crowd when it's millions large, but Curiosity Quills Press helps level the playing field through its members' innovative social media approach, a transparent culture, and a deeply passionate team.