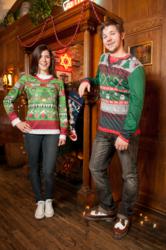 Minneapolis, Minnesota (PRWEB) July 31, 2012
Faux Real, the novelty shirt showcasing one-of-a kind 3D printing techniques launches a new line of entertaining apparel featuring t-shirts with images sure to garner a double take, this August at STREET/MAGIC in Las Vegas August 20 - 22.
Showcasing a line of both men's and women's styles, Faux Real T's are the perfect combination of quirky, funny, and scandalous pictures for consumers who want to stand out from the everyday fashion crowd. Adding to the current best selling, black and white "tuxedo shirt', and the "1970's Hairy Chest", a shirt printed with a peace sign necklace and aviator sunglasses over a suede vest, are shirts just in time for Halloween and Christmas. A few of the new additions include "Zombie", "Red Smoking Jacket", and assorted styles and colors of the classic "Ugly Christmas Sweater" are available in both men's and women's styles. Faux Real photorealistic apparel is a novelty line that is sold Nationwide in gift shops, boutiques, and catalogues across the nation. At retail price points starting at approximately $20.00 to $30.00, Faux Real offers themed shirts for a wide variety of special occasions.
Faux Real was imagined by Creative Apparel Concepts, creators of the popular sleep and loungewear line Munki Munki. As with the manufacturer's main line, Faux Real is intended to engender a whimsical approach to casual wear with its tongue-in-cheek designs. Founded by three brothers, Scott, Jeff and Ben Gray, Creative Apparel Concepts has been manufacturing fine quality men's, women's and children's garments with original and distinct prints for over a decade. http://www.fauxrealshirt.com