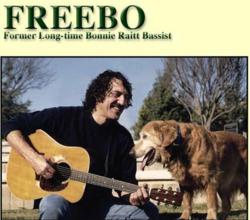 Santa Fe, New Mexico (PRWEB) July 31, 2012
Santa Fe Bandstand is a free summer music festival on the Santa Fe Plaza, produced by Outside In Productions and a crew that strives to present the city with a wide range of performers, who represent the diversity and wealth of musical talent in this region. Performances take place Monday to Thursday, through August 16, 2012. All shows are free and open to the public. During evening performances, the first act begins around 6 p.m., the headlining act performs at approximately 7:30 p.m. Folk, rock and blues Icon Freebo and bluesman Catfish Hodge are the Santa Fe Bandstand's acts from 6 to 10 p.m., Thursday, August 2, 2012. This event and the entire Santa Fe Bandstand summer concert series line-up is featured on the SantaFe.com event calendar.
FREEBO is an award-winning singer/songwriter (2008 Posi Award for "Best Song"in The Most Uniting Category, The '07 Los Angeles Music Awards "Best Folk Artist", Winner '07 South Florida Songwriting Contest, finalist in 2009 The Great American Songwriting Contest), but he is probably best known as a Folk-Rock-Blues Icon. For 30 years, Freebo played bass on recordings and toured with some of the great artists of our time--people like Bonnie Raitt (10 years), John Mayall & The Bluesbreakers, CSN, Maria Muldaur, Ringo Starr, Michelle Shocked, Neil Young, Loudon Wainwright III, Dr. John, and many others. He has alsoappeared on Saturday Night Live, Midnight Special, Muppets Tonight, and in concert with the legendary Spinal Tap. It was his yearning for more creative expression, however, that drove Freebo to begin a process of deep inner discovery, and this has led to his successful transition as a singer/songwriter.
Catfish has been called an "American folk blues hero" and has been a mainstay on the American Blues music scene for three decades now! He has twenty four albums to his credit, comprised almost totally of original material. "Catfish Blues" and "Like A Big Dog Barkin'" on the Wildcat label, and "Eyewitness Blues" on Genes CD were released in 1994 and 1995. His first album of children's songs "Adventures at Catfish Pond", on Music for Little People label was released in May of 1996. The album won the NAPA Golden Award as best children's music of 1996. His 1998 release "Bare Necessities"(on Chicken Legs Music) finds him in a solo acoustic setting, with lowdown funky blues and soulful ballads. His 1999 release "Twenty Years" features performances from concerts and radio broadcast and includes the only version now available of "Boogie Man Gonna Git Ya", as well as other rare gems. His 2002 release "Let's Eat" is a best of collection of his best known food songs of which there are many! Both of his latest albums are available on Chicken Legs Music. All of his albums prior to the 1990's are hard to find except for the first Catfish Band album "Get Down", which Sony/Epic re-released in the mid 1990's, due to demand for the LP overseas.
Catfish found his calling early on. While growing up in Detroit, he was sneaking into Motown Records Hitsville studio to catch the Four tops and the Supremes and grooving to R&B and Blues while his contemporaries gravitated to the Beatles. In the late 1960's he formed the Catfish Band and led them out of Detroit into national prominence.
About SantaFe.com:
SantaFe.com provides locals and visitors to Santa Fe alike the most current interactive platform for events, music, arts, business, dining and lifestyle. SantaFe.com is a division of Hutton Broadcasting, located at 2502 C. Camino Entrada, Santa Fe, NM 87507
Contact Information:
Scott Hutton
SantaFe.com / Hutton Broadcasting
http://www.santafe.com
(505) 471-1067 (Media inquiries only, please)