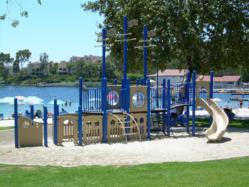 Orange, California (PRWEB) July 31, 2012
Sun Country Systems with offices located in California, Arizona and Hawaii, has long been an industry leader in the supplying of the highest quality commercial playground equipment, safety surface (synthetic grass, by Ameriturf Systems, Inc., poured in place, wood chips, etc.) shade structures, site amenities, water park play and athletic recreation equipment throughout Orange, California. Sun Country Systems is pleased to provide to all Orange County customers the best quality playground equipment, BCI Burke and Berliner Seilfabrik, water park play equipment (ARC), shade structures, site amenities and synthetic surfacing and MUCH MORE. Our full line of products are designed and manufactured with only the highest standards in quality and safety in mind. Sun Country Systems' products are ideal for installation at all public parks, schools, homeowners associations, churches, apartments and other open areas.
Sun Country Systems specializes in universally accessible playgrounds as well as themed playgrounds. All of our designs meet or exceed the design and safety guidelines of ASTM F1487-07 and USCPSC publications for playground equipment designed for public use. At Sun Country Systems we can offer all of our Orange customers a full and complete solution to all of its accessible playground equipment needs. Sun Country Systems will send out a highly trained and experienced sales representative that will provide a free evaluation of the site as well as a free custom design. As a full service, total turn key, commercial playground company, we will provide our customer with not only the finest equipment available (assuring not only the best creative and unique design possible, with the most innovative and best quality that can be offered) but we provide them with a one stop shop for all of their needs.
Sun Country Systems full line of commercial playground equipment, site furnishings, shade structures (offering cantilever, sail shade, umbrella shade, etc.), protective playground surfaces, are available for immediate ordering and installation throughout all of Orange County. Sun Country Systems services all areas of Orange, including Santa Ana, Anaheim, Irvine and Mission Viejo. Sun Country Systems was chosen to provide the Santa Ana Unified School District with all new playground equipment and synthetic grass playground surfacing to over 20 of its elementary school sites.
Sun Country Systems is committed to bringing to its Orange County customers the highest quality equipment and service available, at the best price possible. We ask our Orange County, Santa Ana, Irvine, etc. Customer's to bring us all of their quotes and designs from other playground equipment companies as we are confident that we can beat their prices while offering superior products. Do not hesitate to call us for your free design and consultation!
About Sun Country Systems, Inc.
Sun Country Systems, Inc. specializes in the supply and installation of commercial playground equipment, shade structures, safety surfacing, water park play and site amenities for parks, schools, homeowners associations, apartments and other open areas in all Counties in California, including but not limited to, Kern, Marin, Alameda, San Luis Obispo, Santa Clara, Santa Barbara, Ventura, Imperial, Los Angeles, San Diego, Orange, Toulumne, Placer, Inyo, Riverside, Santa Barbara.
Please Contact us for Your Free Consultation and Design (877) 268-1550 or visit us at http://www.suncountrysystems.com s