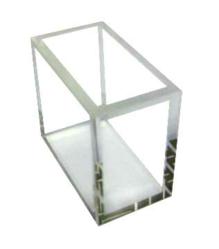 NSG is a frontrunner in the dye laser cuvette industry.
Farmingdale, NY (PRWEB) July 31, 2012
With advanced technology, NSG Precision Cells is proud to offer dye laser cells for Sirah and Quanta Ray Dye Lasers. With over 50 years of expertise and quality customer care, NSG is honored in being one of the only companies in the world that manufactures them. In fact, the NSG factory in Japan has been operating since 1938 and has acquired the ISO9002 certification which is an international certificate for quality assurance in production, servicing and installation. Additionally, NSG has several domestic quality assurance certifications.
NSG is a world leader in glass and quartz manufacturing including high quality and engineering in developing dye laser cells, flow cells, quartz microchips, spectrophotometer cells, numerous cuvettes and other fine quartz optical products. Furthermore, NSG provides service to customers within the United States as well as globally.
Dye Laser Cells for Sirah and Quanta Ray Lasers
As most laboratory workers and scientists know, the dye laser cell is difficult to find. In truth, finding a quality dye laser cell that is cost-effective is nearly impossible. At NSG, they offer dye laser cells at a reasonable price and guarantee high quality standards to meet the needs of today's laboratories.
NSG is a frontrunner in the dye laser cuvette industry. Not only does NSG manufacturer dye laser cells for Sirah and Quanta Ray lasers but they also custom design dye cells to fit any special requirements. The advanced dye cells are thoroughly tested and examined prior to leaving the factory. As well, each cell is supremely made and constructed with advanced proficiency using a fire hydrolysis process.
Fire fusing technology is a high-quality technique that fuses silica quartz to produce scientific items for applications such as spectrophotometer cuvettes and dye laser cells. Fused silica quartz has superior thermal shock resistance and is exceptionally stable to most chemical compounds and elements. Aside from hydrofluoric acid, it can withstand high concentration of acids and not be affected.
At NSG, the quanta ray and dye laser cells are specially constructed using the fire hydrolysis process. The end product is a transparent quartz glass with exceptional high purity. It features superior optical properties in the far ultra violet (UV) range and has an absolute refractive index (ARI) measured at a wavelength of 193.368 nm to around 1.560835. Moreover, to ensure that the quartz fuses properly and securely, NSG utilizes fire fusing techniques to the fullest and employs ongoing fire hydrolysis for quality assurance.
Quality Assurance
The NSG dye laser cells are remarkable innovative advancements in the silicon technology. The cells provide premium grade quartz with high quality fusing. NSG's dye laser cell for Sirah and Quanta Ray dye lasers are economical and exceeds today's standards. Since the dye laser cell is hard to find, laboratory workers can save numerous hours from searching for the ideal cell. Likewise, the NSG dye laser cell can generally be made to the exact dimensions and tolerances that are specified.
At NSG, the quanta ray and dye laser cells are thoroughly inspected by an ISO certified inspection team in a Class 5 clean room. Each cell is checked for physical, optical, and if needed, functional defects. This thorough inspection guarantees excellence and assures customers that they are receiving a cell that has optimum quality for the best possible performance.
Recognized as world leader in silicon products, NSG Precision Cells, Inc. holds the ideal solution for the increasing demands of cost-effective and quality products. With front-line technology and specialized custom designs, NSG guarantees exceptional Quanta Ray and dye laser cell quality to meet the needs of today's scientific labs.
About NSG Precision Cells
NSG Precision Cells, Inc. was founded in 1958 and has been growing ever since. NSG Precision Cells, Inc. is a well established, highly regarded quartz manufacturer and we specialize in the manufacturing of quartz flowcells, quartz flow channel cuvettes, quartz microchips, quartz cuvettes, and other quartz optical products.