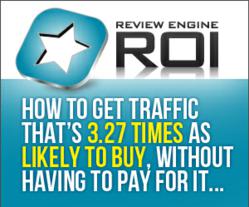 Scottsdale, AZ (PRWEB) July 31, 2012
Smart marketers are tapping into the power of social networks to spread the word about their products and services and a new Facebook application called Review Engine ROI promises to make it easy to spread positive word of mouth marketing, also known as "earned media."
According to a recent Mashable.com article by Victoria Ransom, the CEO and Founder of Wildfire, a global leader in social media marketing, "Of the three media types you'll find in social marketing — paid, earned and owned — earned media is the holy grail because it fulfills the unique promise of creating authentic social proof for your brand."
Ransom went on to say, "Facebook users want to do, see, and buy what they see other users doing, seeing, and buying. In fact, 68% of Facebook users are more likely to buy based on an earned media recommendation from a Facebook friend."
Social media expert, Nick Unsworth, designed Review Engine ROI to help marketers, agencies and business owners obtain free earned media, which has traditionally been difficult.
The app, which is simple to install and easy to use, allows users to ask their customers for testimonials and review ratings from their customers.
Positive reviews are shared on the user's Facebook wall and are collected for the business owner to display on their own Facebook fan page.
"This app makes it easy to harness the power and influence of earned media to obtain more customers. It's brilliant." said Ayers of StrategicProfitsFormula.com
Those interested in getting more customers from earned media can visit the official site here.
An explanation of how the application works and a full review of Review Engine ROI can be found at: http://strategicprofitsformula.com/social-media/how-does-review-engine-roi-work