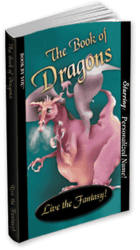 My daughter loved The Book of Dragons - we read from it every evening last week now she's reading it again!
(PRWEB) July 31, 2012
In honor of Dragon Appreciation Month, Kids Book By You is offering The Book of Dragons personalized novel for only $16.95.
The Book of Dragons is 130 pages of excitement and adventure that spans four short stories. Offering personalized characters that are daring, cunning and courageous as they encounter a wide array of dragons - some friendly and some dangerous!
'The Book of Dragons' original story was written in the 1800's by noted children's novelist Edith Nesbit. Book By You® has adapted, updated and personalized this story for the 21st century.
Children will learn to build contraptions, mastermind plans and use his or her imagination and creativity as they embark on a unique personalized adventures. Along with being highly personalized the novel also emphasizes core values such as value of friendship, perseverance and following ones dreams.
In the first story, The Ice Dragon, the main characters embark on a hazardous trip to the North Pole to investigate the Aurora Borealis and learn the magical secret of the Northern Lights.
In the second story our dynamic duo are inquisitive by nature which isn't always appreciated at school but they make new friends that help mastermind a plan to find magical dragons. In the third story The Deliverers of Their Country, our main characters save the world from fire breathing dragons using their courage and determination. The final story, The Last Dragon, is aptly named because it is about our personalized characters saving the last dragon in the world - a world that has destined the dragon to be slain. This heart-wrenching story describes the ultimate power of friendship and trust that our personalized characters use to befriend the Last Dragon and bring him back to their hometown.
At BookByYou.com adults and children can co-author The Book of Dragons by selecting the names, physical features and places to personalize. With over 20 features to personalize, children can put themselves in the leading role and include friends, relatives or even their favorite TV characters. The character questionnaire, available on the Book By You® web site, is fun and easy to complete with three essential characters and features such as hair color and length, eye color, friends' characteristics and more. The story's many personalized features make this book a great gift or back to school reading primer. This professionally bound book is available in paperback or hardcover.
Children are motivated and enticed to read by seeing their own names, along with the familiar people and places as featured in their novel. The full-length book format, when combined with personalization, evoke emotions and present significant themes in a fun and entertaining manner. Children love the world of fantasy and their imaginations run wild as their personalized characters cavort throughout the story. This novel is vastly different from current personalized picture books that contain little or no story content.
To see a personalized preview or receive a free, personalized eBook from ' The Book of Dragons', visit the company's web site at http://www.bookbyyou.com With the company's novels - chidlren are motivated and educated through personalization.
Here is what one mother had to say about The Book of Dragons: "My daughter loved this book - we read from it every evening now she's reading it again." - Trudy M. OR.
BookByYou.com has received national media coverage and been featured on ABC's The View, CNN, Fox News, The Wall Street Journal, Jimmy Kimmell Live and many additional media outlets.
BookByYou.com is an interactive publishing company and is the world's largest provider of personalized books. Media interviews, promotions and give-aways are available upon request. Please contact Michael Pocock at 1-877-898-1440 or publish(at)BookByYou(dot)com.