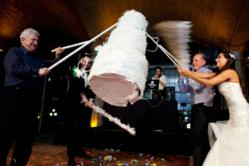 Oak View, CA (PRWEB) July 31, 2012
Fiesta Pinata offers a full line of unique pinatas on its website, including pinatas to celebrate birthdays, anniversaries, Luaus, and sports, as well as all the traditional holidays like Christmas and 4th of July. They also offer specialty pinatas for graduations and favorite movies. When it comes to pinata fillers, FiestaPinata.com gives you more choices than other websites. Filler bags come in many price ranges and include candy, toys and other surprises for party-goers.
Unlike other websites of its kind, Fiesta Pinata has a traditional storefront located in Oak View, California. At their store, as well as the website, they often run great sales and specials where you can purchase wedding pinatas and accessories at hugely discounted prices. Store hours can be found on their website.
According to store manager, Ramon Van Meer, "With so many weddings nowadays taking place in exclusive Mexican destinations like Cabo San Lucas and Cancun, couples are wanting to include Mexican themed decorations, games and activities in their wedding and reception."
Besides its wide range of fun pinatas, FiestaPinata.com sells colored tableware that comes in dozens of colors so that you can easily match tableware to other party decorations. They sell pinata kits and party packages, which include everything you need to put on an exciting fiesta that guests will remember. Fiesta Pinata offers custom pinatas that can be ordered in just about any size, shape or color. Their pinata artisans have over 30 years of experience to ensure you get a beautifully crafted pinata especially for your celebration.
About FiestaPinata.com
http://www.fiestapinata.com helps you celebrate any and every occasion with fun, unusual pinatas that make every party a big hit. Their store is located in Oak View, CA or you can order any of their products from the website. They accept Visa, Mastercard, American Express, Discover, Payleap and Paypal.