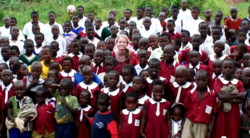 Los Angeles, California (PRWEB) July 31, 2012
The Omidi brothers, Julian Omidi and Michael Omidi, are pleased to introduce a new Facebook promotion that raises additional funding for No More Poverty's featured Charity of the Week. For every person who "Likes" No More Poverty's page on Facebook this week, the Omidi brothers will donate one dollar to the Charity of the Week featured on its website, nmp.org. In essence, each "Like" equates to a dollar donated directly to the featured charity. This week's featured organization is Simone Kids.
"The world is encircled by the bonds of poverty, both in the United States and globally," states No More Poverty's co-founder Michael Omidi, MD. "One of the main reasons my brother and I established No More Poverty is to promote the many terrific charities truly making a difference for the world's impoverished. That is what our Charity of the Week program is about and we happy to increase our support of these truly effective and novel partners in the fight against poverty. "
"I'm really excited about this promotion and the opportunity to involve the Facebook community with increasing charity awareness and support," says Julian Omidi, co-founder of No More Poverty. "Social media is such a popular means of communication today. It's global reach is absolutely tremendous and the possibilities are endless!"
NO MORE POVERTY (nmp.org) is a not-for-profit charity organization founded by brothers Michael Omidi, M.D. and Julian Omidi and has applied for charitable organization 501(c)(3) status. The organization seeks to provide novel solutions to increase the standard of living and quality of life for those suffering from poverty. NMP's focus is increasing long-term sustainability through grants and business development that will create jobs and commerce in disenfranchised areas. NMP encourages the public to donate directly to the featured charities. You are invited to join the fight for NO MORE POVERTY! For additional information, please visit Facebook® or nmp.org.